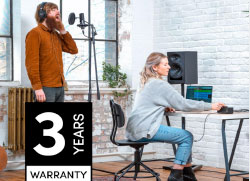 Audient has announced a new three-year warranty for its full product range, 'guaranteeing further protection and peace of mind for all customers'. Customers who purchased Audient products on or after 1 February 2018 will be also eligible for the three-year warranty, effective from the date of purchase.
'Although our primary focus is designing and manufacturing world-class audio products, we take great pride in working hard to ensure we provide the most compelling, all round product proposition,' explains Marketing Director, Andy Allen.
Already offering a wide creative suite of plug-ins, software and educational materials to all Audient customers for free, this extended warranty goes a step further to add value.
Support issues will be dealt with directly by Audient's technical support team or via local dealer.
More:
This email address is being protected from spambots. You need JavaScript enabled to view it.