A multi-million pound restoration project at London's St John at Hackney Church has seen Shure wireless systems made a key part of its audio set-up.
A landmark building and a Music Venue's Trust and Independent Venue Week affiliated venue, St John at Hackney Church has hosted major artists – including Robbie Williams, Florence Welch, Jamie XX, Benjamin Clementine, Bloc Party, Ed Sheeran and Emeli Sandé – since 2010.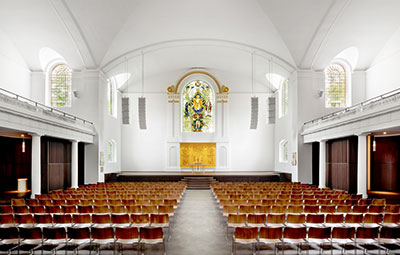 The aim of the restoration project is to create a premium live event space – what the venue terms a Cathedral of Creativity. The demands of this ambition, combined with working in a Grade II listed building, meant that assembling the right team was key to its success, Working with internationally renowned designer John Pawson on the architecture, the project needed to apply the same level of detail and discretion to the tech, with a top team of consultant to an produce a classic, futureproof and industry-standard event space.
'I had used the Shure ULXD previous and had found it really reliable, and easy to work with, says St John Production Manager, Ben Musson. 'When we had the first tender doc come through from our consultants, Shure was right there on it, and no one felt the slightest need to change it.
'Having previously used ULXD, the Axient range was a natural next step,' he continues. 'What I found particularly impressive was its efficiency in the frequency spectrum, and with the RF it can gather through the antennas. This meant that we were able to push the limit on placement, keeping them out of sight and as discreet as possible.
'The capsules that Shure offer sound brilliant – the KSM9 provides incredible intelligibility for speech, and does not compromise on translating high energy from a big vocal. Audio conversion is another big advantages of using the Axient range; there is something about its A/D that keeps sound natural and crystal clear. So many issued normally associated with wireless handheld microphones are also resolved.
'Using Axient receivers on our production network means we are able to remote control the units over our network to check on via [Shure's] Wireless Workbench. My favourite feature is an extension of this remote capability within our mixing console. On the preamp page on our Allen & Heath dLive, we are able to see the RF strength, battery life, receiver name, and also remotely control the gain level of the receiver. This has got to be the neatest party trick, where normally, without using Workbench or being at the receiver, the engineer would only have access to a Dante trim level, or an analogue gain from the receiver into the desk – but to actually gain the wireless mic is life-changing.
'For set-up, we relied on our brilliant production partners at Southby. We haven't had a problem since – the system has been totally dependable. We use a number of the core features that integrate with our system. It's patched over Dante to save on analogue I/O but to also provide that flexibility using this system provides.'
'It's always a pleasure to work with our partners, Southby on world-class projects, such as this, adds Shure Regional Sales Manager for Pro Audio, Peppe Mallozzi .T'hey're always on the ball when it comes to the latest technology, which makes our job easy in continuing to develop mission-critical wireless kit that can deliver under the toughest conditions. We can't wait to see it in action as shows return to this iconic London venue.'
'As a church, we are rooted in our community, with our amazing Lighthouse project caring for people in need all over East London, doing incredible youth work, kids work and so much more,' Musson concludes. 'Our ultimate vision is to bring hope to the people of East London, and it's amazing that my work is part of a much bigger story than just the equipment and the space in front of me. This work has improved the access to a much-loved community heritage asset and created a Cathedral of Creativity to be enjoyed for generations to come.'
The project was supported by the National Lottery Heritage Fund in collaboration with designer John Pawson CBE (Abbey of our Lady of Nový Dvůr/Design Museum), visual artist Es Devlin and architects Thomas Ford & Partners.
More: www.shure.com