Sweden's architecturally impressive Malmö Opera recently invested in Out Board's next-generation TiMax TrackerD4 (TTd4) precision stagetracking system to ensure precise audio localisation of both moving performers and static mic positions within the theatre's immersive sound system, upgraded earlier in the year.
The decision to buy was a simple one, as Malmö Opera sound engineer, Svante Axbacke, explains: 'TiMax TrackerD4 is very important to our sound system upgrade because previously we had not been able to program and chase all the audio objects through the show, so it saves both time and manpower.'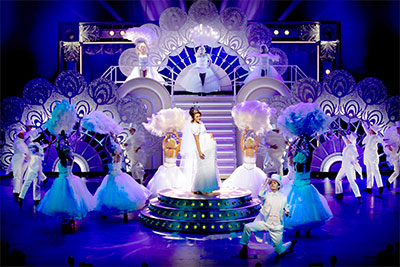 Supplied by Out Board's Swedish distributor, Electrosound AB, the purchase decision was supported by the specification of TiMax TrackerD4 by Autograph's Avgoustos Psillas in his sound design for Funny Girl, which was Malmö Opera's first production on re-opening in the autumn. Swedish superstar, Sanna Nielsen headed the 30-strong singing and dancing cast in the musical.
The theatre took delivery of eight TTd4 Sensors and 30 TTd4 Tags, but Axbacke announces that, 'We plan on buying more Tags early this year for our next musical production'.
Malmo Opera's 1,511-capacity main auditorium boasts one of Europe's largest stages, so while eight Sensors cover the large area from different angles, the multiple sensor viewpoints add redundancy as only two Sensors need to see a Tag for reliable 3D tracking to be achieved. The system's dual-mode ultra-wideband RF scanning uses hybrid AOA and TDOA technology which affords huge flexibility and helps mitigate any slight tracking errors caused by reflections, body blocking and scenery obstruction.
Axbacke and his sound team evaluated other tracking systems on the market before opting for TiMax TrackerD4. As ever, service and support were considerations, as Axbacke explains: 'TiMax has a solid reputation and gives outstanding support both locally in Sweden and from the UK headquarters.'
He confirms that – as well as being 'the most scalable system and easy to maintain' – TrackerD4 is also 'very reliable and robust'.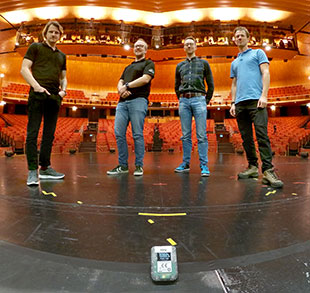 And he discovered just how robust the Tags were when the costume department returned a Tag that had accidentally gone through the washing machine: 'We knew we were in safe hands because its "on" LED was still blinking and there was no damage at all to the Tag. It's safe to say that there'll be no issue from actors sweating which is usually a big problem for electronics.'
Axbacke also has high praise for the battery life of the tags which he considers, 'amazing', as well as the TrackerD4 system's use of industry-standard OSC control. And he is equally impressed with the simplicity of the system, which he explains, 'We can recalibrate ourselves when we need to because it's very easy to do so'.
But it's for the 'smart solutions in the system that are very important to us in theatre' that Axbacke is most appreciative. With a helpful nod to the needs of a busy live production, one of these is the TTd4 Tag power-up mechanism that strikes Axbacke as most clever. 'The way you turn on and off the tags with a magnet is a brilliant idea that eliminates accidents with actors who can't keep their fingers away.'
With TiMax TrackerD4 now in place controlling the new Soundscape system driving d&b audiotechnik A Series speakers, Axbacke is looking forward to pandemic restrictions being lifted, 'so we can fill our hall again and every audience member gets to hear the same thing: the correct sound coming from the correct place on stage'.
And all in real-time, thanks to TiMax TrackerD4.