A/V integration firm Jag Sound Productions was recently called in by the Cornerstone Church in Fresno, California, is a non-denominational evangelical house of worship, to install a new sound system with loudspeakers from DAS Audio.
'Cornerstone reaches a wide gamut of worshippers from all walks of life,' says company owner Juan Gonzalez, who oversees sales, system design and system integration. 'As such, the church's services are both traditional and contemporary in nature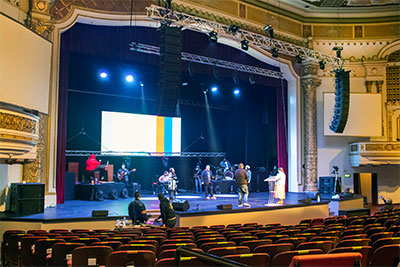 He selected DAS Audio Aero-20, UX-218A and Event-26A loudspeakers for the project, which covers a sanctuary that fans out to a width of 144ft at the back wall and is 107ft deep. With its 86ft-wide stage, the space accommodates approximately 1,400 worshippers and e also serves as a performance venue for touring acts. With this in mind, the new system was required to provide wide sound dispersion for music reproduction and high speech intelligibility.'
The new system comprises 20 Aero-20A line array enclosures flown ten per each side of the stage. Each loudspeaker carries a single 12-inch neodymium loudspeaker and neodymium compression driver, and is powered by a class-D amplifier. Low frequency support is provided by four DAS UX-218A powered subwoofers, two on each side of the stage. Each subwoofer carries dual 18-inch long excursion loudspeakers in a front loaded crossfire configuration, powered by two 3.4kW class-D amplifiers.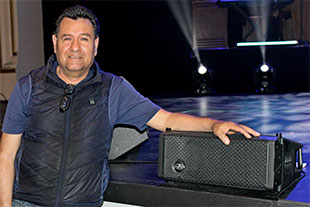 For front fill, Gonzalez deployed 4 DAS Event-26A two-way powered line array enclosures. Each enclosure uses two 6.5-inch transducers and a single compression driver, powered by a two-channel class-D amplifier providing 800W peak. 'These loudspeakers were the perfect choice to cover the first one or two rows of seats directly in front of the stage area,' Gonzalez explains 'Their small footprint doesn't interfere visually with the activity taking place on stage and they do a great job filling the area between the left and right hangs.
'We needed loudspeakers that offered a combination of excellent music reproduction capability while also providing first rate speech intelligibility,' he continues. 'With this combination of loudspeakers, the music sounds well defined and rich while speech is clear and articulate. If the congregation can't clearly hear what the Pastor is saying, then the message is lost.'
Installed in January, the new system was immediately put into service. In the short period of time the new system has been operational, Gonzalez reports his client is extremely pleased. 'Pastor Franklin tells me he is very happy with the new sound system. He said that numerous members of the congregation have noticed a dramatic difference as well. The new DAS system makes a tremendous improvement to the sound throughout the room and, in the process makes services more engaging for everyone in attendance. It's been a win-win for everyone involved.'
More: www.dasaudio.com