Leading systems integrator Broadcast Solutions and German broadcaster WDR have designed and commissioned two identical radio trucks that are already in use at the Cologne station.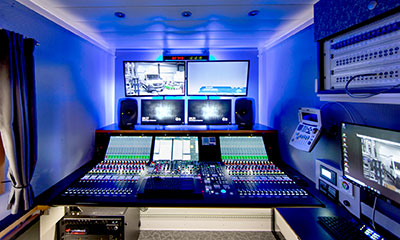 The vehicles are part of a package that includes a third video OB van, with the three vehicles leveraging the latest interconnectivity technology to work together in larger productions. For larger productions where audio control in the video OB van is insufficient, audio control can be fully outsourced to one of the radio OB vans. Both vehicles are connected via one fibre-optic cable, to exchange data and audio and video signals.
An essential goal of the build was for two smaller radio OB vans that offer the same functionalities and acoustic values as WDR's larger vehicles. Broadcast Solutions designed the OB vans as transporter-like vehicles with box bodies, weighing less than 7.5 tonnes when fully equipped. The main challenge facing Broadcast Solutions was the planning and installing the overall acoustic insulation. With a lower overall weight as in larger vehicles, the insulation has to offer the same sound insulation characteristics as in larger vehicles in which a higher weight is dedicated especially to insulation.
Further challenges were to provide sufficient storage space, the extensive technical equipment and the deployment of a UPS, given the demanding mark of less than 7.5 tonnes total weight.
Audio control uses a 48-fader Lawo mc²56 MkIII console with Lawo Nova 73 Core. A Riedel MicroN system is used to connect to the video truck and as a video router.
To connect a radio truck with a video OB van and simplify control, Broadcast Solutions has used the hi human interface control system (an in-house development) in all three trucks. Simplified and touch-based user interfaces make it easy for WDR technicians to configure a vehicle or a group of vehicles without calling on external support. Further-on the trucks are equipped with the Riedel MicroN HD (radio vans)/UHD (video OB van) router system, which in the UHD version enables up to 400G backbone connectivity simplifying the connection and signal transport between the vehicles. One single optical fibre line is used to connect the two vehicles