Focusrite has announced a range of AI-powered plug-ins, designed in partnership with software specialist Sonible.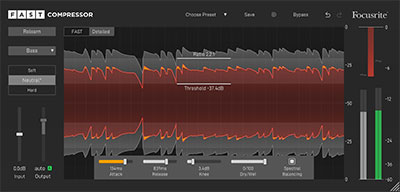 The move will initially see the release three plug-ins – Fast Equaliser, Fast Compressor and Fast Reveal – designed together to provide a variety of tone-shaping and dynamics-processing capabilities. Fast Equaliser, Fast Compressor and Fast Reveal feature intuitive controls that adapt to users' needs with efficiency-focussed workflows, simple enough for beginners and flexible enough for the most experienced creators.
Three Flavour Buttons allow you to choose different tonal character for quick sonic tweaks, while the AI-powered smart:engine by Sonible learns the profile of sound sources being used. Fast View provides custom controls needed to quickly adjust the tonality of sounds.
Concurrent with the launch of the Fast plug-ins, Focusrite are also going live with a new platform and creative hub called The Collective, on which the Fast plug-ins will be exclusively available. The Collective is an expanding online platform designed to provide passionate music makers 'with the tools and inspiration to remain in the creative zone'.
Fast Plug-ins are currently only available to UK, EU and US customers.
More: www.This email address is being protected from spambots. You need JavaScript enabled to view it.