Sixty cinema screens throughout Germany and Denmark are to have Meyer Sound EXP loudspeaker systems installed as part of an ambitious upgrade programme for European cinema chain, CinemaxX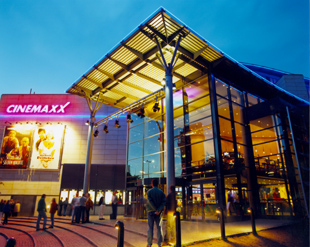 Scheduled for completion by 2013, the project is the largest undertaking for the Hamburg-based group to date. It began with screens in Hamburg and Copenhagen, with more recent retrofits in Berlin and Munich.
Screens equipped with Meyer Sound EXP systems are being advertised as featuring a 'MaxXimum Sound experience'. 'With Meyer Sound EXP, we have an audio component that is fully equal to the 4K digital image,' says CinemaxX CEO Christian Gisy. 'Investing in EXP already has proven to be a wise decision, and working with Meyer Sound has been an absolute joy.
The company operates 34 cinemas, representing about 300 screens and approximately 80,000 seats. 'Since installing our EXP systems, our audiences have noticed the amazing difference,' Gisy continues. 'Attendance for our MaxXimum Sound screens has increased noticeably.'
Systems integrator and installer for the programme is Film Ton Technik Hannsdieter Rüttgers (FTT) of Düsseldorf. The self-powered EXP cinema systems use Acheron screen channel loudspeakers, coupled with Acheron LF low-frequency screen channel loudspeakers. Also included are X-800C cinema subwoofers and HMS-10 surround loudspeakers, with precise digital optimization by the Galileo loudspeaker management system.
At recent EXP upgrade location CinemaxX Isartor in Munich, theatre manager Walter Liebold has no reservations about the investment: 'Quite simply, Meyer Sound is the new standard for cinema audio,' he says.
EXP is the first Meyer Sound's line exclusively targetting the requirements of cinema applications. EXP installations – typically in conjunction with 4k digital projection screens – are now in use at commercial cinemas in North America, Europe, and Asia. In addition, EXP is fast becoming a monitoring standard for film sound production, with systems now in use at California studios Skywalker Sound, American Zoetrope, and at De Lane Lea in London.
More: www.meyersound.com