UK broadcast systems integrator, dB Broadcast has delivered a fully equipped studio for Berkeley Studios International (BSI) at its Park Royal site in London, giving BSI expanded capacity and a greater range of services to offer for hire, as well as for use by pan-Arab news channel Alghad TV.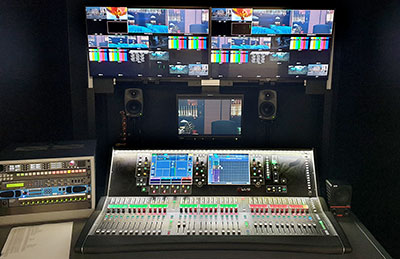 The project required new ways of working, coming as it did at the height of the coronavirus lockdown, and posing a unique set of challenges for the dB Broadcast and client teams to overcome. While installation of the system took place, day-to-day transmissions were still on air, with both live programming and rehearsals taking place, so dB Broadcast and BSI meticulously planned workarounds to avoid disruption.
The requirement for a project turnaround, combined with heightened hygiene and social distancing considerations, meant that dB Broadcast used its in-house pre-fabrication and configuration facilities – an approach that has proved successful in the past - albeit with a reduced team working safely.
Throughout 2020, dB Broadcast avoided putting the majority of its staff on furlough, instead adopting safe working procedures at its new HQ in Cambridgeshire. At the client site, face-to-face contact with BSI was significantly reduced, and separate entrances and exits were used at their studios for dB Broadcast use. In one instance, members of the same family were able to work together in a bubble on overnight cross-site cabling installation to minimise contact still further.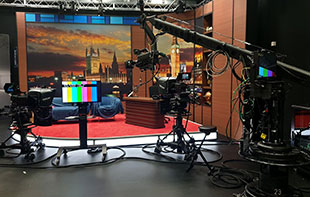 Expansion of the BSI facilities centred on the creation of a new studio with four HD camera systems and lenses, 19ft jib crane and prompting system, plus a Production Control Room with 9m control desk and monitoring stack, a Sound Control Room with a 36-fader Allen & Heath dLive mixer, Sonifex audio monitoring and Genelec reference loudspeakers, and two Edit Suites. The existing router also needed to be upgraded and re-programmed, which dB Broadcast facilitated via remote access with the router manufacturer.
'Once again, dB has delivered an impressive result, and this time in very difficult circumstances', says BSI Technical Head, Mahadev Bhutavale.
'We are delighted to have shown that important projects can still be delivered on time, despite having to develop and work to new Covid-safe working practices', adds Graham Pearl, Operations Director at dB Broadcast. 'Our strong relationships with the team at BSI and all the individual equipment suppliers was key to producing such a positive outcome.'
This was the second expansion for BSI, as in 2019 dB Broadcast managed the construction of an interactive news and current affairs facility at Park Royal.
More: www.dbbroadcast.co.uk