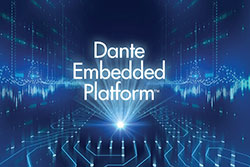 Dante A/V networking technology developer Audinate has announced the availability of a software development kit (SDK) for manufacturers of Arm-processor based audio products, allowing Dante audio networking to be deployed as on-chip software in products.
The Dante Embedded Platform SDK provides the tools needed to develop Dante-enabled products built upon 32-bit and 64-bit Arm (Advanced RISC Machines) Cortex-A processors using a Linux operating system, and supports online licence activation for OEMs. The SDK allows manufacturers to validate their own designs for performance and capability, ensuring solid reliability for end-users. 'We're just beginning to see the changes brought to the A/V industry through families of software-based products,' says Audinate Product Manager, Nick Mariette. 'Arm-based audio devices are incredibly flexible and cost-effective, and now Dante can be integrated in to deliver a truly great customer experience.'
In addition to support for Arm Cortex-A processors, a Dante Embedded Platform SDK for x86-based audio products is anticipated for release in the near future.
The Dante Embedded Platform SDK for Arm processors is available immediately.
More: www.audinate.com