Florida-based events production and sound integration company Harmon's Audio Visual has seen a steady increase of integration business in recent months as the state's Covide-19 restrictions have lifted – including a complete system upgrade at Burnt Store Presbyterian Church [BSP] in Punta Gorda, which features an RCF HDL active line array system.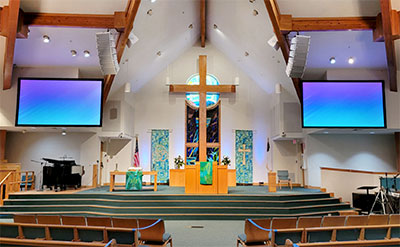 When the conversation over upgrading BSP's audio began it was apparent that the existing 20-year-old system was badly underperforming. 'The challenge for us was to find a PA that was properly voiced and was going to cover the room for varying types of services,' says Bobby Harmon, Harmon's AV co-owner. 'Initially, when we discussed upgrading the system, one thing that came up was that the church holds several live concerts – with full bands – throughout the year, and usually hires outside companies to provide additional sound.'
There were also acoustic considerations throughout the church, including reverberation and bounce-back. 'We had to address was the reverberance of the room, which they liked for the traditional services,' Harmon elaborates. 'We talked about room acoustics and treating it, but the music minister didn't want to change the natural acoustics. Another issue brought up by one of the pastors, was the "echo in a cave" sound of being when speaking on the stage, which we determined was bounce-back from the back wall. We knew we could solve these issues with a line array system and few fills throughout the room.
'My experience with the [RCF HDL] 6-A was that I really like how the box is voiced,' Harmon continues. I've been very impressed with how they're tuned, and I knew it would be a really good fit. For me it really wasn't a matter of choosing a passive or active, it was about choosing the right solution for the space – and it happened to be active.'
For low-end, Harmon placed two RCF Sub 8004 Active Subwoofers on each side of the stage.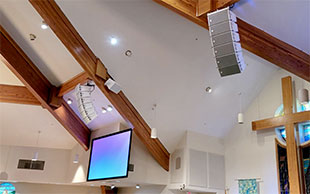 'The original design was to fly the subs, but we made the aesthetic choice of hiding them on the floor. We put one behind the band, the other side next to the organ. They complement the HDL 6-A very well,' he says.
Another challenge Harmon's AV faced was power sequencing and brought in an electrician to run additional power throughout the room. 'I find the ease of an active system is really nice, not having to match amps, the [RCF] system didn't require very much tuning either, the modules are very flat out of the box, it sounded great with little effort.'
To improve the overall experience for the pastors, Harmon installed two RCF M-1001 Passive Speakers, powered by one IPS 2700 power amplifier for stage fill, giving pastors some voice lift with basic stage monitoring. 'We like how that was working so added an additional pair of M 1001s to the overflow areas as well,' Harmon says.
The warm Florida weather has also seen live events slowly returning. 'We've done some outdoor movie nights, and a few smaller outdoor receptions, and private concert events,' Harman confirms. 'Autumn is a perfect time of year for outdoor events. We're taking all the precautions we can to keep our staff safe.'