Recently adopted by Los Angeles broadcast audio engineering company and rental service Drop Ship Audio, a new Calrec Audio Artemis mixing console is being used on a popular reality show in its fourth season. With 340 channel processing paths and powerful Bluefin2 and Hydra2 technologies, the console is proving to be a success for owner, Sean Prickett.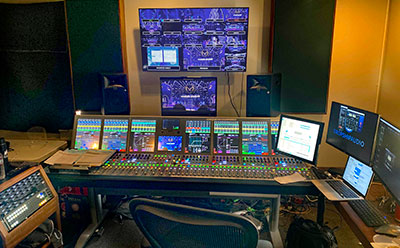 Drop Ship Audio and Calrec are no strangers, as the company owns two Calrec Brio digital audio consoles and a Summa console. 'We'd been looking for a larger, full-size fly-pack console to replicate more of the experience you would have in a traditional TV truck,' Prickett says. 'I mixed the previous three seasons of this reality show for a major network on an Apollo and the ability to have the same workflow and familiarity as the previous seasons made the Artemis an obvious and easy choice for our work on this fourth season.'
Prickett also uses Calrec's Hydra2 networking, which provide scalable audio networking with other consoles and routers so that a large number of inputs and outputs can be shared and controlled regardless of the console's location. In the console's current configuration, they are using five Hydra2 boxes for I/O.
'As a company, owner reliability and support were at the forefront of the decision and we know that Calrec delivers on both fronts,' he says. 'Another big selling point is whether I am mixing a show or one of my colleagues is, I know they will be comfortable and familiar with the console, which saves a lot of time.'
'Drop Ship Audio works with an impressive client base on some very high-profile productions – a testament to the excellent work they do, aided by the power and performance of this Artemis console with its flexible control surface and uncompromised overall quality,' says Calrec Regional Sales Manager, Dave Lewty.
More: www.calrec.com