The Audio Engineering Society is to host three free to attend independent sessions for audio professionals and enthusiasts in conjunction with this year's Namm's Believe in Music Week.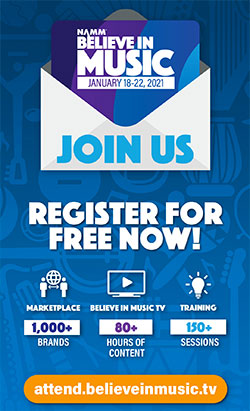 The first of these is a collaboration with We Make Events North America, entitled Pandemic: Panic or Pivot, scheduled for 21 January 21 (4pm EST) comprising a panel of industry professionals who will discuss the organisation and its September RedAlertRestart event. Panelists – which include Ellen Lampert-Gréaux (creative director, LDI), Vickie Claiborne (training manager, Disguise), Tim 'Quake' Mark (production manager and FOH engineer), Cosmo Wilson (lighting designer, AC/DC), Brandon Blackwell (production manager and FOH engineer) and Andrew Bongardt (monitor engineer, Clair Global) – will provide insights into how they have successfully survived the industry close-down.
Also on 21 January (7pm EST) the AES pairs with AudioNowCast and Carl Tatz on Secrets of Near-Field Monitoring, which will offer insight into the world of professional monitoring, looking at unique, infrequently-discussed solutions to real-world problems. Michael Rodriguez will moderate an in-depth conversation with studio designer and monitoring expert Carl Tatz.
The AES and The Recording Academy Producers & Engineers Wing present Organizing Chaos – Top Engineers Discuss File Management on 22 January (4pm EST) when industry experts will explore best practices and systems for music file management. Panelists will be Jeff Balding (producer, mixer, engineer), Chris Dennis (engineer), Quentin Gilkey (mix engineer) and Ebonie Smith (producer, mix engineer, studio coordinator) with moderator Maureen Droney (Recording Academy Producers & Engineers Wing Sr Managing Director). This session was originally presented as part of the AES Show Fall 2020 Convention.