The Namm organisation is to present Eventide Audio with a Milestone Award in recognition of its 50th anniversary (1971-2021) as a pioneering professional audio manufacturer. The presentation will take place on 21 January as part of Namm's online Believe In Music Week.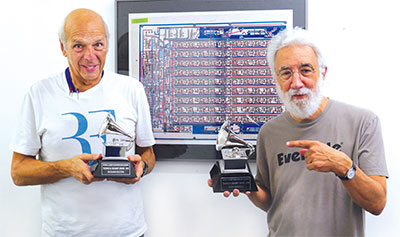 'For a small company like ours, 50 years of continually staying relevant is an accomplishment in and of itself,' says Eventide MD, Anthony Agnello. 'The Eventide family of innovators has also managed to consistently expand the boundaries of applied technology, thanks to feedback and support from our loyal customers.'
Eventide co-founder Richard Factor adds: 'We are truly honoured to receive this Namm Milestone Award in recognition of our company's service to our industry.'
The Namm Resource Center group offer registered attendees a week of special events centred on its Oral History collection, with the Namm Milestone Award presentation available for streaming beginning at 11am PST on 21 January.
Eventide had its start sharing space with a small New York City studio. Its original product, a tape search unit for the Ampex MM1000 multitrack recorder, was born of necessity as the studio had no room for a tape-op. Following the presentation of product concepts at an AES Convention, the fledgling company received a fortuitous order by Maryland Public Broadcasting that spawned Eventide's initial product line, the Instant Phaser and, for MPB, a digital delay line giving two channels of independent delay from a single input. This DDL became the classic model 1745 Digital Delay Line, which matured in subsequent versions to include Random Access Memory (an audio product first) and an optional pitch change module (the first available with a frequency response suitable for music).
In the early 1970s, the first of Eventide's products to achieve almost instant, lucrative, and widespread popularity, the H910 Harmonizer effects processor, was introduced. In parallel with a progression of products designed for broadcasters, new versions of the Harmonizer effects processors were continually developed, and Eventide became the acknowledged leader in pitch shift technologies. The legendary Eventide SP2016, with its 'Stereo Room' and other unique programs rendered possible by DSP, was unleashed on the industry in 1981, marking Eventide's leadership in digital reverberation processing as well.
In addition to audio products, Eventide developed ancillary products as diverse as the pioneering Argus line of moving maps for general aviation use, still in production today. As the 1980s ended, available technologies made practical the development of digital audio program loggers for broadcasters, which Eventide extended to a swath of public-safety and customer-service applications.
Eventide's prominent position on the leading edge of digital audio processing continues unabated, including the development of software plug-ins that enhance classic Eventide algorithms for DAW users and musicians, alongside the introduction of plug-ins featuring new and innovative algorithms. The latest flagship of the Eventide hardware family, the H9000 networked multi-effects processor, brings unparalleled multi-path, multichannel processing power to modern production, interfacing with DAWs and networked digital audio infrastructures.