Digital Audio Denmark and NTP Penta have launched a new website for existing and potential users of the DAD AX32, router and Penta 720, Penta 721s Series of audio interfaces, as well as the MOM hardware monitor controller. The website offers a knowledge base, forums, and a download centre where all software and firmware updates are gathered in a single location.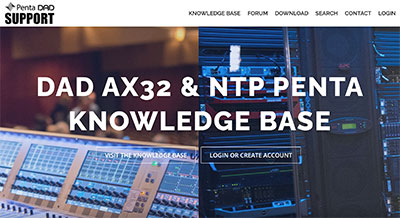 In conjunction with the launch, an update for the DADman control software that is to be used across both brands' hardware products is now available. The DADman v5.4.5 update is compatible with MacOS Catalina, Mojave, High Sierra, Sierra, El Capitan and Yosemite, as well as Windows 7, 8 and 10.
'The new support website aims at bringing several things together in one place, making it much more convenient for our users,' says NTP Technology Sales Director. Mikael Vest. 'It makes a lot of sense, as our DAD and Penta line of products share many things on the software and firmware side, as well as expansion options including I/O cards, DSP cards and the MOM monitor controller.'
The new website allows users to browse the knowledge base, forums and documentation, as well as create an account to access software and firmware updates. It is also possible to register products to receive extended warranty as well as other benefits.