The Bob Moog Foundation is to hold a virtual listening party for the historic 'Abominatron' tape sent to Herb Deutsch by Bob Moog in 1964, in which Moog explains every parameter of the Moog synthesiser prototype.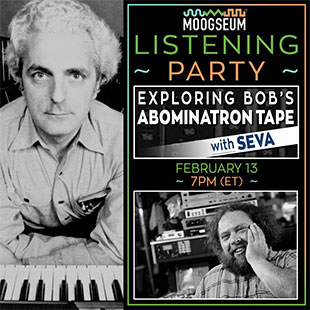 The listening party takes place on 14 February 2021 (2pm ET), hosted by Seva David Ball, the audio engineer who restored and transferred the tape to digital for the Bob Moog Foundation Archives.
Sections from the 84-minute reel-to-reel tape, which was donated to the Foundation by Deutsch, will be explored as Ball sits in the Moogseum beside the prototype, which is currently on loan from The Henry Ford museum in Dearborn, Michigan. Many sections of the audio relic have never previously been shared publicly. In the tape, Moog introduces the brand new instrument, which was the catalyst to a revolution in the world of music, as 'the Abominatron'. He then turns his attention to leading the listener through the innovative capabilities of this critically important development in the world of synthesis.
'We have been very careful about how we share the rare material on this historic tape,' says Michelle Moog-Koussa, Executive Director of the Bob Moog Foundation. 'Now, with the prototype ending its days at the Moogseum before being returned to The Henry Ford museum, and given the challenging times that we are all experiencing together, we decided the time was right to reveal more of this invaluable documentation of Bob Moog methodically explaining the instrument he designed, at a time when it was so new that neither he nor Herb Deutsch could have conceived how revolutionary it would be. It will indeed be a rare experience for our audience to hear his thoughts and reflections at such an early stage in the development of synthesis.'
Tickets are available through Eventbrite on a 'pay-what-you-can' basis.