The Arista Corporation has worked with DMX Pro Sales to bring Arista's E-Vocal Duo Audio-over-IP interfaces on Amazon.com. Models available include the ARS-0002-A00 Dante-to-analogue interface and the ARS-0002-A01 interface, which facilitates Lip-Sync delay to enable sound and picture to be synchronised.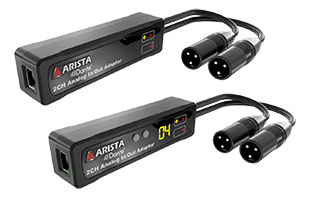 Arista's E-Vocal Duo ARS-0002-A00 converts a Dante stream into two channels of analogue audio signal – useful, for example, when a stereo feed of the performance is needed to feed a sound reinforcement system or is to be recorded. The E-Vocal Duo ARS-0002-A01 allows two audio signal outputs of Lip-Sync delay of up to 170ms/channel (fs=48kHz) to synchronize the audio stream to the video stream. The delay control switch can add delay in the range of 0–170ms by 32 increments. The E-Vocal Duo ARS-0002-A01 uses XLR analogue outputs.
E-Vocal Duo products are AES67 compliant, using 24-bit analogue-to-digital conversion, and the ability to be powered via PoE (Power over Ethernet) or 5V DC via a Micro USB connector. As Dante-enabled devices, they offer super-low latency and sample-accurate synchronisation across a network.
'We view this as an excellent opportunity to broaden our reach by making our products available on the world's leading online marketplace,' says Arista Corporation President, Paul Shu. 'I have every confidence this will be a win-win endeavour for Arista, DMX Pro Sales, and most importantly, our prospective customers.'
More: www.Aristaproav.com