Over the past 120 years, the Namm (National Association of Music Merchants) association has grown from a small, domestic consortium of US piano dealers into a far-reaching educational and support organisation boasting arguably the world's best trade show dedicated to both the business and pleasure of making music.
When 2021 Namm Show had to be cancelled due to continued Covid concerns, the association shifted its focus online with a digital alternative called Believe in Music Week, running from 18–22 January.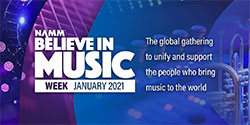 Among the venture's supporters, L-Acoustics is sponsoring a virtual marketplace booth, where it will host eight video sessions on a variety of topics, all with live Q&A. Visitors can also book online meetings with L-Acoustics team members, chat live, and receive 'special access to swag and an exciting giveaway.'
Of particular note will be the booth's keynote session, Contour XO IEM Origins Story, moderated by FOH engineer Chris Rabold (Bruno Mars, Lady Gaga, Beyoncé). This will be a Zoom 'fireside chat' with L-Acoustics founder and President Dr Christian Heil and JH Audio Founder and President Jerry Harvey, exploring their origins in pro audio and how they came to collaborate on the new Contour XO in-ear monitor.
Immersive Audio for Houses of Worship will see L-Acoustics Application Manager Josh Maichele host a conversation with the technical directors at three churches – Mount Paran in Georgia, Orchard Hills in Pennsylvania, and River Pointe in Texas – to learn why they all chose L-ISA Immersive Hyperreal Sound technology for their congregations.
Solid State Logic will also offer several music tool and application sessions at Believe in Music. The sessions run between 19 January and 22 January and will cover SSL's latest music and audio production tools, including SiX, Fusion, Origin, and the new SSL 2/2+ interfaces, as well as the cutting edge in SSL Liveevent space, installed sound and church production platform.
SSL SiX Console and Fusion Audio Processor (19 January) will examine professional hybrid production at home with SSL SiX and Fusion hosted by SSL studio specialist Marc De George. Bringing Solid State Logic quality and performance to a new generation of creatives, SSL 2 & SSL 2+ Audio Interfaces (19 January) explores SSL's 2/2+ audio interface as a contender for your desktop, hosted by SSL studio specialist, Marc DeGeorge. Mix engineer Chris Lord-Alge, meanwhile, discusses his thoughts on SSL sonics and workflow of SSL latest in-line audio production console in (21 January), hosted by SSL studio specialist, Fadi Hayek.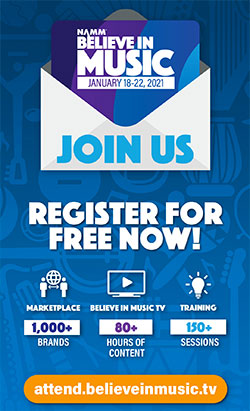 Live sound veterans Simon Thomas (FOH Halsey, Mark Knopfler) and SSL's Fernando Guzman get up to speed on how the SSL Live production platform is elevating theatres in spaces and houses of worship (22 January) event, hosted by SSL Live Product Specialist, Fernando Guzman.
Audinate is offering a free seminar on Getting Back to Music Education and Professional Live Performances exploring how Dante is enabling many different types of live performances while maintaining social distancing and room occupancy safeguards for all.
'If you've tried to use Zoom Meetings for a band or choir event, you know the latency of the system is too high for musical collaboration. You would be able to perform for each other, but you cannot perform together,' the company says. 'However, low-latency Dante networks have been a staple of live production for a decade and can solve the problem right now.
'Join us for a discussion on inspiring stories of music educators at the high school and university level using Dante to link performers from different venues. These are stories that you can replicate in your own programme, today. Advice on spatial planning, connecting multiple spaces to accommodate full ensembles that no longer fit in a single room, and even ways to capitalise on your campus network will be discussed.'
Also from Audinate is an overview of the Dante A/V video-over-IP solution, and Level 1 and 2 of the popular Dante Certification Course.
Believe in Music Week will also provide a pltform for Peter D'Antonio and John Storyk – part of the founding team of REDIacoustics, a recently formed research company dedicated to high performance audio and acoustic analysis – to introduce the Niro, (Non-Cuboid Iterative Room Optimizer) SaaS (software as a service) on 21 January.
A fifteen-minute tutorial will illustrate how this software platform has been developed; the research behind it; and why they believe that it is poised to create a new paradigm in the optimisation of small room acoustics.
'For many years, the need for a wave-based, computer-modeling tool capable of facilitating predictive, iterative analysis required to optimise small room design (studios, home theatres, audiophile rooms, etc. has been the acousticians' Holy Grail,' the presenters say.
Niro's developmental software platform consists of three modules, which automatically and iteratively optimise any size or shape critical listening room, both below and above the transition frequency from wave to geometrical acoustics. The Geometry Module optimises the rooms' dimensions and the positions of all loudspeakers and listeners, by searching for the flattest modal response. The Damper Module designs and optimally locates all low frequency corrective treatments now referred to as Acoustical Parametric Equalizers (APEQs.) The Specular Reflection Module optimises the room's Reflection Free Zone; identifies disturbing mid and high frequency response anomalies; and addresses specific degrees of acoustic envelopment. One or all of the modules may be engaged to address specific acoustic requirements for the high performance listening environment.