It was the production during lockdown impacting on Celebrity Juice that saw leading UK television sound supervisor/director and Sound BAFTA Winner Robert Edwards head for his home cinema and, with a few tweaks, turn it into a home studio/office in order to continue working.
'Timeline Television – who are based at Ealing Studios – found that the producers of the show wanted to do a few episodes remotely,' he recalls. 'They wanted me to drive to mix in the truck at Ealing, but when Covid hit, it seemed logical to try to do it properly remotely.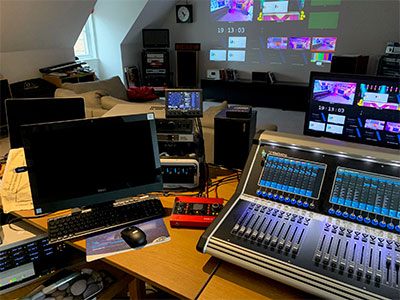 'I happen to have all the right kit at home, literally down to the last wire – including a DiGiCo S21 console with a Dante card, as I have a Dante network in the office.'
Edwards originally purchased the S21 for a large Gospel choir that appeared on Britain's Got Talent two years ago, as the broadcast desk he was working on didn't have sufficient inputs or outputs to accommodate everything required.
'The S21 proved a good solution as an add on,' he says. 'It's got a reasonably small footprint, it's versatile and it's light enough to carry, so I decided it was useful for all sorts of reasons and it migrated back to my home office.'
Within three days, everything required was assembled, including a Spot On system for playbacks, etc, which included all the right music for the show. Using Unity Connect software, which connected to Ealing Studios over his domestic internet connection via firewalled modems and a VPN, Edwards was able to take up to 64 channels of audio from Timeline, sending it back to them in real time with a latency of just two or three frames.
'Overall, there are 31 broadcast feeds in, with 35 out into the Dante network to the S21,' Edwards explains. 'The desk has multiple screens and multiple layers, allowing me to do whatever was needed for the production. I routed to group busses and then to the transmission master, which is how the broadcast feed leaves me.'
For Edwards, the S21 represents a flexible and economic prospect: 'It has a lot of I/O on the back of the desk itself and if you add the Dante card you get 64 channels in and out,' he concludes. 'Also, you can pay several thousand pounds just to do a conversion between Dante and Madi, but I've got that in the S21 for a fraction of the cost. For a very reasonable price you've got a lot of moving faders and two screens, which really helps the workflow.
'The S21 is the Swiss army knife of consoles and it's been a godsend recently, not least because if I hadn't had it, I would have had to drive backwards and forwards to the broadcast truck in Ealing every day. As well as being convenient, cutting out the travel during lockdown, it was a very green way of doing things.'
Edwards' standing as an elected Fellow of the Institute of Professional Sound reflects 45 years of exceptional work, and a credit list of productions that includes opening and closing ceremonies for the Summer and Winter Olympics, and TV shows such as X Factor, Harry Hill's TV Burp, The Masked Singer, Britain's Got Talent, The Wheel and Michael McIntyre's Big Show.
More: www.digico.biz