Chosen by systems integrator BeckTV for a recent control room build for a major US broadcaster, Calrec's Artemis Shine audio console builds on the company's 20-year history with the British company, coupled with the fact that its client was already familiar with Calrec technology having used Calrec's Brio digital audio consoles.
The multi-phase project involved a wealth of equipment for the client's new broadcast control room, which serves as a main hub for the broadcaster in Washington DC.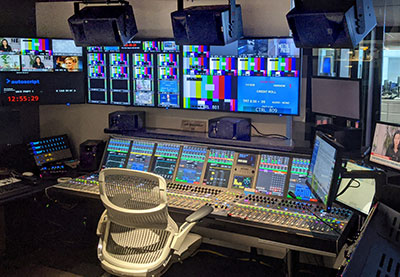 'I come from the OB truck world and Calrec desks are pretty much the standard,' says BeckTV Senior Systems Engineer, Paul Nijak. 'The client was already using Calrec consoles, and with the Artemis being so versatile and working effortlessly with Evertz router controls, the 64-fader desk fits the bill perfectly. Overall, this is a SMPTE 2110 and AES 67 build, but there are multiple protocols being used including Dante and Madi. Calrec has a close relationship with Evertz, allowing effortless audio signal integration with the flexibility required.'
A large number of inputs and outputs are being shared across the client's facilities. 'They have a lot of signals that come in and out from this location; this is a new hub for them and they distribute audio to their New York, Charlotte and Denver locations,' says BeckTV Director of Engineering, Brendan Cline.
The project, which began in March 2020, was delayed due to Covid-19 but following its Covid safety protocols and with help from Calrec's support team, BeckTV was able to complete the install several weeks prior to the Presidential Election. 'Covid has meant massive setbacks for so many in the industry, but Calrec's support and response team was really incredible throughout the entire project,' Cline adds.
'Covid has certainly changed the way we do things now, though designing reliable audio consoles that get the job done has always been a pillar of our business model. Our Artemis consoles are widely used on major productions with high-profile work, and we're incredibly pleased that BeckTV chose it for this very important customer of theirs,' says Calrec East Coast, Sales Manager, Helen Carr.
More: www.calrec.com