Israeli PA company the Mazuz Group has become an L-Acoustics K1/Kudo Rental Network Agent.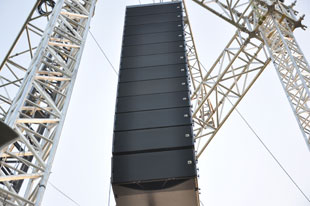 The Move is part of an expansion of the company's services designed to meet the growing needs of international touring riders. 'The addition of Mazuz as K1 agent for Israel is a great reflection not only of the system's performance but also on how L-Acoustics, supported by our distributor Lightone, can offer an unbeatable package in terms of performance, acceptability and return on investment,' says L-Acoustics sales manager, Tim McCall. 'Mazuz has some of the country's most respected engineers and now they have the country's best system – a winning combination.'
Following the equipment purchase, L-Acoustics' certified trainer Paul Van Baasbank travelled to Mazuz's premises to carry out K1 training before the new system was put to use on a Justin Bieber concert at Hayarkon Park in Tel Aviv, before a crowd of 25,000 people.
Mazuz has also ordered a Kara modular WST line source system, which will be delivered later this year.
More: www.mazuzgroup.com
More: www.lightone.com
More: www.l-acoustics.com