For more then 100 years, the Goldbäckerei Grote bakery company has been serving customers in the Sauerland region of Germany through its 17 cafés and bakeries. The fourth generation of the family business has now opened a gastronomy location on the shores of Lake Sorpe (Sundern) introducing an 'all-day concept' where customers are provided with hot and cold dishes, cocktails and regional specialities.
The venue's upper floor is used as an event area, with Event Active has installed audiovisual technology. 'Goldbäckerei Grote wanted to offer a high-quality event location with its Heimathafen [events space],' says MD, Noel Büchte. 'Therefore, we planned the technology so that the products could be perfectly integrated and deliver an excellent performance.'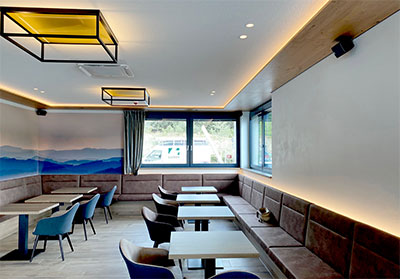 Martin Audio loudspeakers were used exclusively for the entire project: 'Martin Audio's portfolio offers many solutions for the installation sector, so we were able to use several product lines: weatherproof outdoor loudspeakers, budget-oriented background speakers and high-quality ceiling speakers – all available in high- and low-impedance versions,' Büchte says.
Almost 50 loudspeakers from the Adorn, Ceiling and CDD series have been worked unobtrusively into the room design – and the loudspeakers have another advantage. 'Since we were integrating a complex audio matrix, we naturally also needed the matching loudspeaker presets for this. Unlike some other manufacturers, Martin Audio is very transparent – the preset data of the installed loudspeakers can simply be downloaded from the home page and integrated into the DSP used,' Büchte explains.
The Schmallenberg-based company has experience with Martin Audio products, as, In addition to its own rental equipment, many previos projects have used Martin Audio solutions.
'Martin Audio's portfolio offers a wide range of loudspeakers and peripherals, and there is a suitable solution for every sound reinforcement task,' states Büchte in conclusion. 'We also work very closely with [Martin Audio German distributors] Audio-Technica GmbH. This means that projects can be planned and implemented very flexibly.'
More: https://martin-audio.com