A self-professed recording purist, Varun Krrishna describes the installation of a 36-channel Audient ASP8024 Heritage Edition with patchbay and DLC in his new Mondosonic Studios in Kerala, India, as 'he best decision I've made in my career.'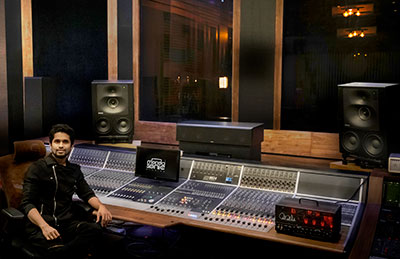 The result of five years' hard work, therecording space is inspired by Krrishna 's experience as a music producer and composer in London. As a student of Advanced Music Production, he fell in love with what he calls 'the British sound' in 2014: 'I used to go to many studios while I was studying,' he explains. 'I found out that even though there is a digital revolution going on, the analogue domain still has that sound that is missing in plug-ins. I know it's subjective, but analogue has worked way better for me in my production workflows.'
When the time came to equip his own studio, the first item on the shopping list was an analogue console. 'As I use very coloured analogue outboard, I wanted a clean, yet punchy sounding console with great routing options. That's how I landed on Audient.' Enter ASP8024-HE
Despite a full demo at The Bridge Studios in London – when he had 'a great time exploring the features; the sound was huge, wide and smooth' – he now finds more to appreciate about his console as he works with it. 'These preamps are phenomenal. I have many outboard preamps with different colours, but I'm more fond of using the console's built-in preamps.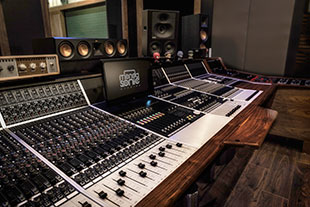 'It feels great when I can do things all within the range of the console, ' he continues. 'Activating the built-in Retro-Iron, the subtle harmonics take my mixes to another level. I am also really blown away by the low noise floor of the console.'
For Krrishna, recording is the most important part of production: 'I spend more time recording than mixing and mastering,' he says. 'Without an incredible recording, I feel songs just lose their soul. That's why I got myself an analogue desk, so that I can get that very detailed recording in an intuitive way.'
It helps that he enjoys the process, too: 'I use microphones as a tool for natural EQ. By trying out various mic positions, I can get the sound I am looking for without using much EQ post recording. It's an art of exploring and learning – and the most fun part.'
Krrishna uses the in-line architecture of the desk to start mixing whilst he's tracking, which helps give him an idea of how it will end up in the final stages of song production. The Dual Layer Control (DLC) is earning its keep, too. 'I can switch between the DAW control and analogue automation so easily and I can patch anything into the DLC,' e says.
Currently developing his an in-house record label, he is finding that having this level of control throughout the production process is invaluable. The consoles was supplied by Tanseer at The Inventory.