Having turned heads with its innovative construction, and bent ears with its pioneering investment in L-Acoustics Kara II since its summer opening, 6MIC ('seismic') has ambitions to become a major addition to the cultural standing of Aix-en-Provence in France.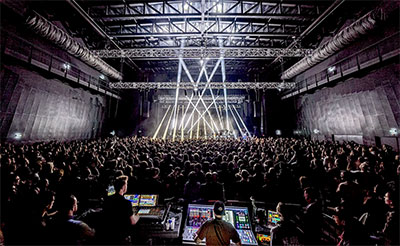 Designed by architects Rudy Ricciotti and Jean-Michel Battesti, the building is a lichen-covered concrete structure (both a technical feat and a world first) designed to lend it a mountain-esque ability to reflect into the surrounding landscape. 6MIC's goal is to become an epicentre for music and culture throughout France. Therefore, required a sound reinforcement system to reproduce various performance styles and keep a minimal carbon footprint. 6MIC chose to install L-Acoustics throughout all performance spaces to hit both of these goals.
Although structural work commenced in 2018, it was not until September the following year that the technical team turned their attention to the audio concept. With an ambitious goal of deploying sound equipment that would be of the highest calibre and future-proof, 6MIC Technical Director Rémi Droesch's brief was simple: 'We wanted the best sounding system.'
After consulting with a number of premium loudspeaker manufacturers, L-Acoustics was retained by the 6MIC team for several reasons. 'Out of all the companies we spoke to, L-Acoustics ticked our boxes right from the outset,' Droesch explains. 'First of all, the comprehensive loudspeaker range and excellent performance of L-Acoustics make it the best audio manufacturer we know. Price was equally important to us, and the L-Acoustics team provided a very competitive offer. Finally, following our architectural design philosophy of blending into the nature around us, we wanted to be as carbon friendly as possible, so partnering with a French loudspeaker manufacturer made perfect sense to us.'
DuShow was chosen as the system integrator, and its team worked with 6MIC's Albert Peirat on all commercial elements and Laurent Moulis on technical aspects. DuShow also facilitated 6MIC's first contact with L-Acoustics Sales Manager, Olivier Inizan, who proposed the new Kara II system.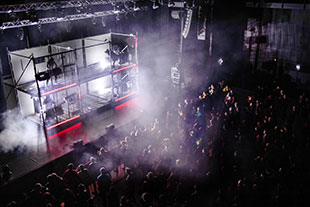 'When Olivier suggested Kara II – which wasn't even announced to the public at the time – we held our breath in anticipation and excitement. We knew that Kara would be a very good system for us. So calling ourselves the world's first venue to install Kara II shortly after being referred to as a world-first for our original and innovative architectural design just seemed very appropriate,' Droesch recalls.
The new L-Acoustics M1 measurement platform was recommended as part of the overall sound system design to guarantee the perfect system optimisation of all configurations of the venue's performance spaces. M1, in combination with the P1 processor, offered the benefit of streamlining measurements of the loudspeaker system throughout the spaces at 6MIC. This proved its worth very early on. Split across three levels, 6MIC features eight separate areas comprising two concert halls with audience capacities of 800 and 2,000, five rehearsal and recording studios for amateur and professional musicians, and an outdoor patio. Each area is unique, so the team needed to treat them individually to achieve homogenous bandwidth and dynamics.
The audio concept was designed by Moulis, with Inizan and L-Acoustics Application Engineer Arnaud Delorme assisting, and the system was delivered to 6MIC in March. 'Due to the first wave of Covid-19 restrictions, the final Kara II installation had to be postponed until May, with Arnaud completing three full days of socially distanced training and testing in each individual room in June,' Droesch says.
The Grand Concert Hall system comprises a Kara II variable curvature line source deployed with four KS21 flown per side. Four A10 in radial configuration provide in fill and X8 as front fill for the first rows. Kara II arrays are powered per group of two boxes to offer line source processing using AutoFIR technology. It also provides consistent level and tonal balance response throughout the venue.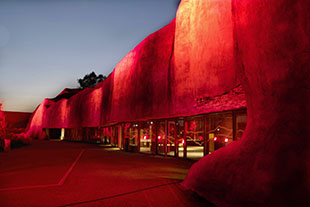 The Club uses A15 medium throw line sources with KS21 subwoofers for bandwidth extension. This high contour solution is used with X8 as front and in fill. The patio space comprises an ARCS WiFo/SB18m system, while the bar benefits from 5XT with SB18 subs. A mobile X15HiQ stage monitor package with ARCS Wide for side fill is available to satisfy artists' demands.
'The great thing about this system is its adaptability. The equipment for the patio can also be used in the bar during the winter,' Droesch says. 'Each separate system is adapted to the capacity and geometry of the room. In the Club and the Grand Concert Hall, we use Milan/AVB audio network protocol between P1 and the amplified controllers, so we have both perfect time alignment of all channel amps and optimised latency. LA Network Manager controls all systems.
6MIC opened its doors to artists and performers throughout the summer, and feedback has been exceptionally positive. Many French and international acts, such as Oxmo Puccino, Ayo, Peter Hook and The Light, The Wackids, and Svinkels, are booked to appear at 6MIC in 2021.
'We are extremely proud of the end result and would like to thank L-Acoustics and DuShow for their close partnership with us, as well as our local service providers who have all helped us bring this ambitious project to life,' Droesch concludes. 'The technical support we received from L-Acoustics was invaluable, both at the very early stages of the system design as well as later during the final process of system testing and team training. We have been delighted with the feedback so far, with both 6MIC staff and visiting artists singing the praises of the venue and its exceptional sound quality. Kara II is definitely the new way forward, and we are very pleased to find ourselves moving in the same direction.'
More: www.l-acoustics.com