Shure UK and The VoiceOver Network are jointly lending support to the evolving voiceover industry through a series of Educational Programmes & Workshops, as well as direction on how to equip a home studio. Content will run regularly on both sites during the year-long partnership.
The VoiceOver Network was established in 2013 when Rachael Naylor began organising small meet-ups with a voiceover friends. 'I started out as a voiceover artist more than 12 years ago,' she explains.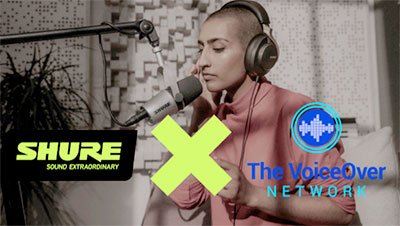 'Like a lot of people, I felt very comfortable in front of the microphone and have always enjoyed talking, so being a voiceover artist was the perfect career for me. I love my job and I think we have a fantastic industry full of wonderful people, but which microphones and how to get the best from their equipment is not something we specialise in. It's often the make or break of a recording'
Education has since become an important aspect of The VoiceOver Network's activities, with the new partnership with Shure dedicated to providing resources to people at the leading edge of voiceover production.
Shure recently unveiled the MV7 Podcast Microphone – the company's first hybrid XLR/USB microphone, aiming it at podcasters, vocalists, professional-level audio production and at the demand for audio streaming and recording solutions at home, in the studio or on the move.
'Audio as a medium, for home recording and podcasts is on the rise', explains Daniel Wieland, Senior Manager Retail Marketing at Shure. 'Harnessing the Company's engineering prowess that developed its iconic SM7B Vocal Microphone—a legend in the recording, live streaming, and podcasting sectors—the MV7 dynamic microphone delivers versatility and control, flexible connectivity options, and high-quality audio in a sleek, compact design. This plays right into the hands of the VoiceOver network who want a reliable product, that easy and versatile enough to configure for a range of applications.
'At Shure, we're keen to work with those who strive for perfection in their work, and by supporting the Voice Over Network in the UK, we can put all our training, education and knowledge drawn from more than 95 years of audio equipment to good use. We are pleased to announce this long-term partnership and the engagement it brings with this very talented community.'