Part of a major refurbishment of its Studio A, Blue South Recording Studios has become the first facility in Atlanta, Georgia, to install a Neve BCM 10/2 MkII mixing console.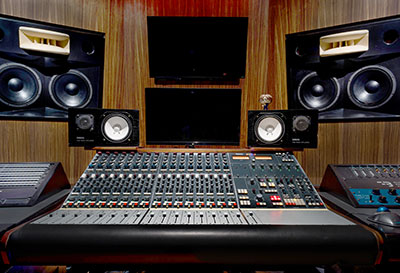 Established in 2009 by producer and musician Bill Jabr, Blue South and its sister studio, Blue West in Los Angeles have attracted artists such as Childish Gambino, Andre 3000, Juice Wrld, Travis Scott, Summer Walker, Brett Eldredge and Becky G when in search of a creative vibe. 'We genuinely love and respect all forms of music,' Jabr says. 'Open-minded artists pick up this and that's what draws them in.'
Jabr chose the 16-channel Neve BCM 10/2 MkII for his Atlanta facility because it brings Neve's sound into a modern workflow. 'The Neve 1073 preamp/EQ needs no explanation in our world,' Jabr says. 'When we were researching new consoles, the BCM's updated monitor section, direct out, and simple input additions also jumped out. The console is perfect because it gives us the heavy, rich Neve analogue sound, while also providing easy DAW integration for a modern workflow.'
As the centrepiece of its main studio, the Neve BCM 10/2 MkII is being used for both conventional and in-the-box sessions. 'We are using the console for front-end tracking, while for a more modern workflow we are using it to carry out a lot of summing and splitting mix stems, before printing back in to the desk to make future recalls easier for remote editing,' Jabr explains.
'This is where the direct outs and simple inputs make life easy. The monitor section is also extremely straightforward and flexible, and we can easily split headphone mixes out through console cues to integrate with our hear-back system. It's a very ergonomic board - and the EQs are obviously legendary!'
A graduate of Berklee College of Music, Bill Jabr gravitated towards music recording and worked at Doppler Studios in Atlanta. Having also worked in many different facilities as a producer/writer and musician, he had a good idea of what he wanted from his own studios and he set about translating that vision into Blue South/Blue Room.
'These are spaces where people can cut out any distractions and be solely focused on music and creative endeavour,' he says. 'We focus on giving people full attention and effort across every project and we are somewhat obsessed with studio service and etiquette.'
Installing a Neve console has delighted Jabr, who points out that many of the studios he admires – Capital Records, East West, Electric Lady and Abbey Road among others – also have Neve desks. 'You just can't beat a great Neve board and having the opportunity to work on one every day is a dream come true,' he says. 'Neve means so much in the world of music and recording and Neve consoles have a tone that can't be missed. They have a truly unique characteristic that just works on so many applications.'