'I am obsessed with the sound quality of my productions, so having a great soundcard is essential,' says producer and DJ Michael Canitrot. 'The definition and precision of the Prism Sound Lyra 2 is fabulous.'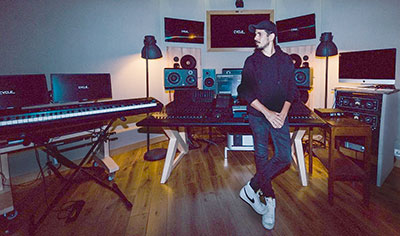 Born and raised in France, Canitrot grew up surrounded by vinyl and turntables as his father is a DJ at a French radio station. Canitrot's first DJ sets were for friends and family, but by 2000 he was building a reputation as a professional DJ, working in top Parisian clubs such as Bains-Douches and the Queen on the Champs Elysées. 'I wanted to produce my own events, so I created a party called So Happy in Paris,' he explains. 'This project allowed me to travel and mix all over the world and meet incredible artists and people.'
Alongside sound quality, it was Lyra 2's transportability that appealed to the younger Canitrot – the unit is highly portable and can easily be moved from one studio to another or used on the road. 'I like to change environment because that always stimulates my imagination,' he says.
Before the pandemic, this suited Canitrot as he often moves between his project studio in Paris and the US to write with specific artists or master his projects. Lyra now travels with him. 'My workflow is mainly-in-the box and my own studio is equipped with a MacBook Pro with Logic, a Komplete Kontrol S49 keyboard, Neumann KH 120 monitors and various synths. I also have a selection of favourite plug-ins that include Sylenth, Diva, Serum, Kontakt, Omnisphere, Dune 3 and Korg M1.
'I switch to commercial studios when I reach the stage where a project needs mixing or when I want to record with other artists. There are two studios close to my apartment in Paris that I often use because I feel very much at home there.'
Canitrot is currently recording an album, Cycle, to be released at in early 2021 and is also working on music for a new film and preparing live sets for a project entitled Monumental Tour – a series of concerts held at French historical sites that aim to showcase the architecture of the buildings and collect donations for their ongoing preservation. The most recent of these took place over the summer at Château de Vincennes.
More: www.prismsound.com