A full renovation of the Shades Mountain Baptist Church in Birmingham, Alabama, included a thorough upgrade of its sound system undertaken by Blackhawk Audio. In addition to bringing world-class sound and coverage to the 2,700-seat megachurch's main worship centre, the new system has been contained within a very compact grille cloth area.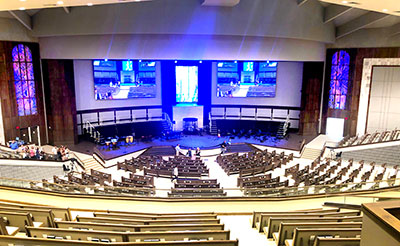 Blackhawk found the solution to both requirements in EAW's ADAPTive systems – including the Anya and Anna loudspeakers, and Otto subwoofers – which are accompanied by EAW VFR89i monitors for the stage.
'One of the strongest selling points of the EAW ADAPTive speaker system was that in addition to its audio quality and excellent coverage, it also was low profile and would not visually overwhelm the sanctuary,' says Blackhawk Audio President, Rick Shimer. 'The previous look of the sanctuary had a very large speaker cluster – ensuring that the new PA system was less obtrusive while also offering pristine sound was a main factor for this project. They wanted a particular look, and we are able to achieve this using EAW's Anya, Anna and Otto.'
The upgrade, which comprises upwards of 30 EAW loudspeakers, includes two Anya boxes each for far house left and far house right, six Annas each for house left and right, two Anna' for down fill, six Otto subwoofers for centre and eight VFR89i passive two-way stage monitors for the choir.
'The EAW ADAPTive platform has proven to be the best choice for sonic clarity and acoustical control across our worship centre,' reports Shades Mountain Baptist Church Production Manager, Ryan Maynard. 'Blackhawk's design and deployment of the system has given equal attention to all seats in the room, so that everyone has an engaging experience, no matter their preference of seating location. For a system this powerful and configurable to fit within the confines of the new ceiling structure is quite an accomplishment.'
More: www.blackhawkaudio.com