Africa's largest satellite television channel service provider, South Africa's Multichoice has completed an infrastructure rebuild in Studio 6 – principally used by SuperSport for live sport production under the Multichoice umbrella. The installation, carried out by local system integrator and Lawo supplier Inala Broadcast, and comprises a vm_dmv-based Lawo V__matrix multiviewer and Lawo mc²36 audio console with an A__stage64 stagebox and Nova73 router.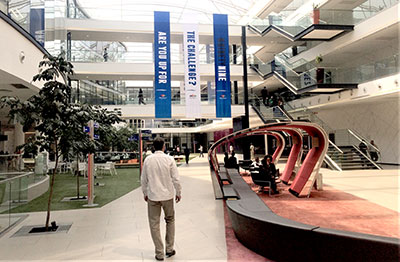 In addition to the studio production audio workflows, the system interfaces into IP-based commentary booths to enable adding multiple languages into the IP audio backend. SuperSport's overall infrastructure is controlled by an all-encompassing VSM virtual studio manager system that also controls 16 galleries used for turn-around operations of smaller events, adding logos in the right places.
As a result of this steady transition towards IP, the ICR, Studio 1 and Studio 6 are now part of a giant IP network, and is is mainly used for incoming sports feeds, like soccer, rugby and cricket, with all footage being transmitted to the presenters in charge of producing pre-match, half-time and post-match analyses.
'The migration of broadcast signal reticulation from traditional baseband to IP brings us new options in the way things are done, which required us to re-define the way we all – Multichoice Technical Team, Inala Broadcast, SuperSport Operations and Lawo – install, configure and commission an audio system of this size and nature,' the Multichoice Technical Team says.
Anthony Teunen, Lawo's System Engineer, who configured the new studio set-up and supervised the handover called Studio 6's new audio infrastructure 'an innovative small console-large router scenario.'
The configuration for the Multichoice studio in Randburg, Johannesburg (South Africa) was configured remotely from Theunen's office in Belgium. For health and safety reasons during the Covid-19 pandemic, hardly anybody was allowed on-site for some time, and even remote configuration operations were temporarily put on hold, because no-one would have been available locally to reboot devices after an update or in the event of a programming issue.
SuperSport specialises in airing international and SA-based live sport feeds from all over the world, as well as locally-produced content across more than 50 channels, to which multiple language commentary is added in local languages. SuperSport's big Studio 1 was equipped with a Lawo-centric setup a few months ago, while the International Control Room (ICR) migrated to Lawo V__matrix-based vm_dmv multiviewers in Spring 2020.
'We are very grateful to our South African systems integration partner, Inala Broadcast, for their hard work and innovative solutions,' says Lawo Sales Director Africa & Radio Partners, Ralf Schimmel. 'This partnership has resulted in a cutting-edge infrastructure that provides SuperSport's unrivalled operations with even more flexibility.'
More: www.lawo.com