Copenhagen's Det Kongelige Teater (The Royal Theatre) recently invested in a Allen & Heath dLive Wings mixing system to add flexibility to its newly repurposed A-Salen contemporary dance space.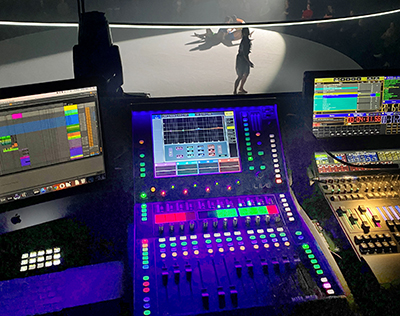 Formerly a rehearsal area, the theatre's A-Salen is a true black box space, giving reconfiguration options for a wide variety of dance performances. In-house audio engineer and sound designer Jonas Jensen set out to find a mixing system that would match the versatility of the space itself. His greatest challenge was that the mix position would often need to share an intimate 3m2 footprint with the lighting desk, so a typical 36-fader, full-format console was never on the shopping list.
Following a recommendation from colleague Sebastian Eskildsen, Jensen opted for a 19-inch Allen & Heath dLive C1500 surface with 12 faders over six layers, paired with a CDM32 MixRack. An IP8 remote controller gives an extra six layers of eight faders, bringing the total number of available fader strips to 120. A Dante 128x128 card in the C1500 completes the set-up, integrating the dLive system with the theatre's comprehensive Dante network.
'I often run quite complex speaker layouts, like multiple surround set-ups, or immersive systems, and I do most speaker distribution within the console,' Jensen explains. 'So I need a lot of busses with delays and filters. The versatility in the ways you can set up the dLive system makes it a great hub, and as we range from small Ableton-focused surround-installations to full-on rock bands, I appreciate the effortless configuring, routing and set up.'
Specific features already getting heavy use include dLive's DCA spills, Dyn8's dynamic EQ functionality and easy virtual soundcheck functions.
When not in use in A-Salen, the dLive system has already been earmarked for monitor duties for larger performances, and for use on touring shows. All elements of the set-up were supplied by Allen & Heath's distributor in Denmakr, Lightpartner.
More: www.allen-heath.com