The Earl and Rachel Smith Strand Theatre began its life as a motion picture house in 1935 in the growing Atlanta suburb of Marietta, Georgia. Over the intervening years, the venue has been used for 'a number of ventures' until it was temporarily shuttered in 2002, seeking new renters. It found new life with a community-led Bring Back The Strand renovation into public theatre devoted to live performance, reopening in 2009 after a restoration that reinstated its functionality and dignity.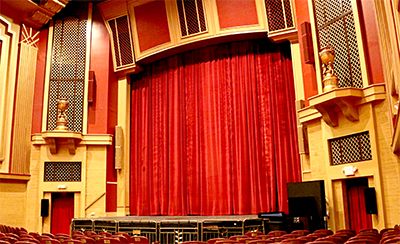 The venue faced a further challenge as it wasn't designed in line with current acoustical considerations. Reverberant surfaces and a uniquely constructed balcony resulted in poor intelligibility across the audience seating. Now, after a decade of performances, the Strand Theatre has installed a Renkus-Heinz loudspeaker system.
'The community had noticed the sound had been lackluster for a while,' says, Denmon Technical Services owner James Denmon – the firm responsible for the new audio system. 'They'd tried multiple ways to fix it over the years, but it never quite sounded its best. That changed when we brought in a Renkus-Heinz system as a demo. They were very, very surprised by the difference it made.'
The theatre's new audio system uses the Renkus-Heinz ICLive X Series – four arrays each made up of two loudspeakers – to ensure coverage across the entire space. The ICLive X offers the benefits of beam steering, allowing sound to be positioned where required.
Denmon built out the ICLive X arrays in the 'lower' position using an ICLXL module and an ICLLX module, which allows the high frequency section to be positioned precisely and offer a longer beam throw. The 'upper' arrays make use of one ICLX and one ICLXL module. Two Renkus-Heinz CA-82 two-way Complex Conic loudspeakers provide 'extreme' front fill, within five feet of front of house.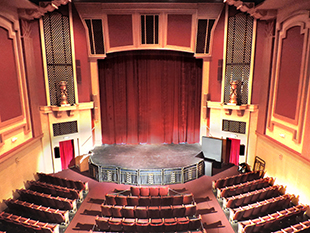 Rounding out the integration are four PN212 dual 12-inch subwoofers, which deliver maximum low frequency impact.
'The space was challenging because it has a very deep under balcony and over balcony,' says Alison Technical Concepts President Jeremy Alison, who was the consultant on the project. 'We didn't have much access to the ceiling for rigging, yet we also didn't want to put traditional loudspeakers all over the place because we wanted to keep the lines clean. We wanted the theatre to look great when we were done. The answer was to work with Renkus-Heinz, not just for the superior sound quality, but for the way the loudspeakers look as well.'
Renkus-Heinz provides custom fabrication of speakers from its Foothill Ranch, California facility. For the installation at Strand Theatre, the speakers were painted gold and red to blend in with the aesthetic of the space.
'Now it looks incredible and sounds incredible,' Alison reports. 'Honestly, this is the best-sounding system I have heard in a performance theatre in the past five years. And everyone at the theatre agrees.'