The recent delivery of a 16 UHD-camera OB van to St Petersburg broadcasting company City TV-Radio Agency JSC marks further success for Broadcast Solutions, and brings innovative UHD technology to Russia.
The OB is one of the first – and currently the largest – UHD OB vans in the country, and will serve the city's own TV-channel, St Petersburg, to produce large cultural and social events. For many of these events, City TV-Radio Agency JSC will produce international feeds or federal coverage to be broadcast to the whole of Russian.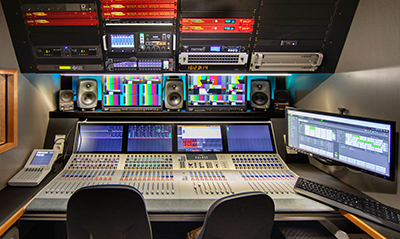 St Petersburg City TV-Radio agency works with various technology providers reaching production capacities of up to five large OB vans. With the new 'Neva' OB, the company is yet more flexible and can now produce in UHD.
As the main broadcaster of multi-million metropolis St Petersburg, City TV-Radio Agency is responsible for TV-productions of events taking place in the city like the celebration of Day of the City or Navy Day, concerts as well as political and cultural events.
'Our company and our team have a lot of experience in large and complex live productions, and a deep understanding of workflows and processes inside an OB van,' says City TV-Radio Agency JSC CTO, Ilya Osichev. 'From the starting point, we had a strong opinion and a lot of expectations, and we strongly believed that only a very experienced company could match our requirements for building a new OB van. And of course, UHD is still a pretty special format currently.'
The OB van comes as a full trailer with two extensions and offers 20 workplaces. Besides a Riedel Artist intercom and IHSE KVM solutions, the OB van is equipped with a Calrec Summa audio console and audio matrix.
The OB van's infrastructure and signal workflow is designed for having signals coming in from external inputs through fibre or Telco lines from different locations in St Petersburg to join the main cameras. Additional outputs feed large LED screens with the programme produced by a second vision mixer panel. City TV-Radio Agency and Broadcast Solutions also chose in Grass Valley's UHD-native LDX86N cameras, Grass Valley Sirius router and Kahuna vision mixer. With the use of the hi human interface in the OB van, Broadcast Solutions adds a further OB van to their hi rooster and widens the market share for its home-breed control system.
'Over the years, we have developed a strong relationship with the Russian broadcast community that trusts in our expertise and our solutions,' says Broadcast Solutions, COO Wladislaw Grabowski. 'Customer City TV-Radio Agency JSC is a very professional production house, and it makes us even prouder that we could convince them to use our in-house developed control system hi human interface in their new premier production vehicle.'
With the hi human interface control system, Broadcast Solutions has taken a new angle on the development and overall design of control tools for broadcast and media. With innovative configuration concepts and drag-and-drop functionalities, hi allows simplified operation and control of all relevant video and audio technology within the OB, including router, audio and video mixer, multiviewer, Tally and signal management.