Flipside Soundsystem has installed a new audio system at the recently opened contemporary Asian restaurant, Blue Jasmine in Southampton. The venue needed an aesthetically pleasing installation for both indoor and outdoor use, and Flipside met this need with equipment from Yamaha and Apart Audio.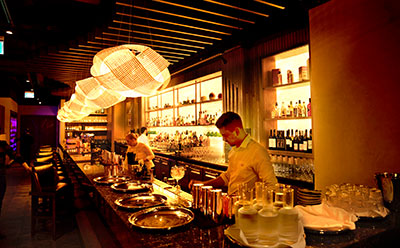 Blue Jasmine co-owners, Xi and Phoebe Zhao required an audio installation that could be distributed across the bar, a VIP room, two main dining spaces, a raised dining area and toilet facilities. With a Yamaha MTX3 acting as the brain of the entire system, Flipside installed a wall panel control for each zone of the restaurant, allowing easy accessibility and seamless coverage.
'Usually with restaurant sound system installations, owners are never too specific on how they want the audio to integrate into their design of the space – they tend to fall into one of two camps – either low to the ground or high in the atmosphere and that's it,' says Flipside MD, James Cooper. 'But Xi and Phoebe clearly had a good idea of how they were going to integrate the sound system across the newly designed space and were ultimately convinced by our approach.'
The Flipside team wanted subs throughout the whole space and tried to work out the most efficient way of getting consistent coverage across all of the tables without using a large number of amplification channels.
'The Yamaha's VSX series are equipped with an internal 100V line transformer which allowed us to operate at both high and low impedance just by changing the tap on the rear of the speaker,' Cooper explains. 'The satellite connectors then allowed the joining of satellite mid-high speakers to be used at the same amplifier output – which ended up reducing the number of amplifier channels and meant we could take advantage of the high-pass filter.'
To ensure even coverage, the Flipside team created networks of eight VXS3Fs powered from each VXS10ST. 'You're essentially sending 100-200W line to an area and covering around 30 tables in one of the lighter areas with a sub distributing out to the satellites,' says Flipside Project Manager, Ben Evans. 'I wouldn't normally do a series parallel, but for this sort of installation, it seemed like the best way to go.'
Situated in a residential area and having a glass fronted entranceway, wall-mounting or surface mounting would not have been the best option for the outdoor speaker installation for the restaurant. To avoid disturbing users of balconies in the neighbouring area, Flipside suggested an audio solution that could be implemented at ground level.
'We ended up placing Apart rock speakers around the flowerpots and I think they work perfectly as a subtle camouflage,' Cooper says. 'You don't really notice and having them play really quietly means you can get a nice low-level spread around outside without disturbing the neighbours.'
The final result has been received positively by the Zhao's and has significantly benefited the restaurants re-opening. ''The entire installation is discrete, easy to manage and the quality from day one has been excellent,' reflects Xi Zhao. 'Even now with the added furniture and customers, the sound has managed to spread evenly and beautifully across the whole venue and for a high-end space such as this, we couldn't have asked for more.'