Shure is working with camera manufacturer Huddly to provide a new set of networked system product bundles, making the Huddly IQ AI-powered meeting room camera an optional add-on for a complete audio/video solution in a variety of bundle choices. These bundles provide more convenient project specs and streamlined deployment to a wide range of room sizes and types – at a discounted price. There are numerous configurations, depending upon customer needs.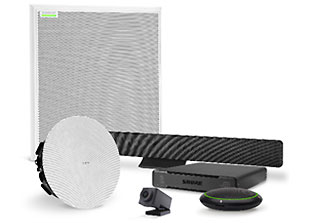 'With the increased adoption of A/V technologies geared around simple deployment, intuitive operation, and seamless compatibility with leading collaboration platforms, this ecosystem offers a complete audio and video solution,' says Shure Global Systems Marketing Director, Chris Merrick. 'Both Huddly and Shure believe in providing superior user experiences, and these new bundled options deliver.
Huddly helps overcome the challenges of small meeting rooms that experience difficulties with group video. Screens are usually too close to participants and not everyone can be seen, which leads to frustration and a loss of engagement. Huddly IQ's 150° wide-angle lens and full HD video makes sure everyone is seen and feels part of the conversation, especially as they are socially distanced. USB-powered and compatible with any platform, the Huddly IQ is ideal for smaller rooms and ad-hoc collaboration.
With Huddly IQ being Zoom and Microsoft Teams certified, it readily integrates with Shure conferencing products. The expanded range of Shure Microflex Advance products – with complementary software for design, management and control – offers expanded possibilities for systems integrators. The Microflex Advance products are all natively designed to work with each other and provide the market with a fast and efficient means to deploy premium audio, with IntelliMix DSP in either device-based or software formats. They are also designed to work with leading AV conferencing services such as Zoom and Microsoft Teams.
With the recent introduction of the Microflex MXN5-C Networked Loudspeaker, along with products like the new MXA710, MXA310, MXA910, Networked Mute Button, Designer, SystemOn, IntelliMix P300, and IntelliMix Room, Shure can now provide the complete audio signal chain, from input to output.
Shure's conferencing audio ecosystem comprises: ceiling array microphones, table array and linear array microphones; networked ceiling loudspeaker; audio conferencing processor and audio processing software; system configuration software and remote management software; and network mute button and audio network interfaces.
More: www.shure.com