A new conference facility is the latest expansion of Caesars Palace in Las Vegas, where operator Caesars Entertainment needed a first-class technical infrastructure for site wide multi-signal transmission over Caesars Forum, and opted for BroaMan, the video and data based sister company to Optocore.
Local design and engineering specialist National Technology Associates (NTA) has a long track record working with the Caesars Entertainment family, including Linq promenade, the High Roller, and many restaurants and venues. Project manager Shane Snell recognised the building was significantly too large to run traditional SDI cabling, and instead turned to a BroaMan fibre solution.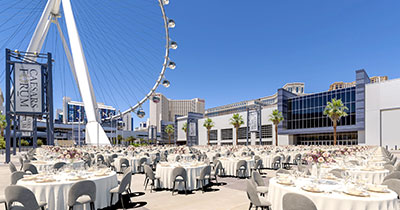 BroaMan offers custom fibre-optic solutions as well as standard devices for applications requiring IP/SDI/HD/3G video transport or routing, regardless of scale or complexity. In the BroaMan environment, all open standards can be integrated – digital video, audio and data – on the same low latency fibre-optic infrastructure.
The Conference Center itself measures 550,000sq-ft, including more than 300,000sq-ft of flexible meeting space with the two largest pillarless ballrooms in the world at 110,000sq-ft each. The facility has access to three first class hotels with 8,500 Caesars Entertainment hotel rooms and 20,000 more within walking distance.
Snell explained that the original design had 'tons of SDI cabling' running to a total of nine IDF distribution frames. 'With 400 floor boxes going to nine comms rooms, none of them connected, there was no way to tie them all together and certainly not by using coax point-to-point cabling.
'We needed a way to tie these isolated comms closets together – without a bunch of loose gear, adapters, boxes, or anything that could be less than reliable. It also needed to be easy to use by Encore Productions, the in-house productions team who live in the world of event production where flexibility, speed and ease are key.'
A BroaMan 40x40 Route66 video router sits at the hub of the network design, with 32 3G-SDI I/Os freely routed to eight Repeat48 WDM in different locations throughout the facility. These provide electrical to optical, optical to electrical conversion and feature 24 video channels combined over build-in CWDM module, transportable over two duplex fibres.
There are also eight local fibre I/Os on the Route66, which a Repeat48 interface in the hub room converts to SDI. An external WDM frame, connected to the Route66 multiplexes 32x32 channels in the central location, combining together the desired video channels and sends the Muxed streams down a singlemode duplex fibre connection to each remote Repeat48 WDM. Between each of the Repeat48 WDMs and the Route66 there are also two generic fibre tunnels that can be used to tunnel an optical data. All audio and video runs on a hyperconverged A/V network using networked audio (a Q-Sys environment) with JBL speakers.
'What we have is nearly 400 SDI cables split among nine A/V closets, with a four-input/four-output node in each closet,' Snell explains. 'This is tied together by a Route66 and WDM frame in the main A/V head-end and operated under Crestron control.'
The NTA project manager reports the implementation of Optocore control protocol for BroaMan straightforward: 'We only had to acquire comms with the Route66 and it handles the end-points. Once we had all of the patching in place, it took minutes to load that portion of the control.'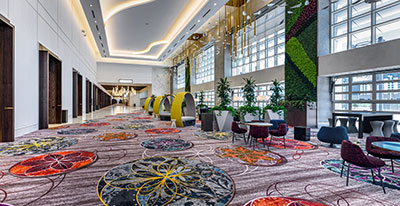 Typically, a user patches a camera or SDI device into a floor box, and this in turn is patched into the node in the associated comms closet, before being routed to another IDF – some more than 1,200ft away.
'In total, we created a 40x40 matrix switcher that is decentralised and covers the entire space.'
BroaMan distributors, Optocore North America in the shape of Technical Sales Manager Brandon Coons, assisted with the overall system design, using all conventional off-the-shelf products, while at the manufacturers' HQ in Munich, Technical Sales Manager, Maciek Janiszewski, was also on hand to assist with the overall design.
Summing up the installation, and the success of the BroaMan deployment, Snell reflected, 'Most of the other SDI-over-fibre solutions had felt like a glob of pieces and parts. On the other hand the BroaMan set-up was nice in that it felt like a built-to-fit solution. Instead of having point to point converters and an extra matrix, with all the additional little bits and pieces, we ended up with exactly what we needed as a system, rather than a series of parts. Also, the modular design of the nodes made it easy to get the number of ins and outs we were looking for.'
The rest of the A/V integration uses Creston IPTV distribution, while NTA also installed a 35ft x 50ft corner hi-res LED wall, with 2mm pixel pitch – the largest of its kind in the country.
Encore Productions also say they are excited about this installation as it will enhance the overall experience for planners and the events that are scheduled.
More: www.broaman.com