Created in conjunction with parent company Clair Global, Britannia Row Production's Virtual Live Audience (VLA) platform allows the performance artists and TV hosts/panellists to interact and reconnect for broadcasting under Covid-19 audience restrictions.
As with video conferencing, VLA offers music fans and TV audience members a propriety browser-based video platform to experience a live performance or be part of a TV filming production – from home. Viewers benefit from multi-camera broadcast feeds and can watch the entertainment as if they have a front row ticket, while talent on stage experiences an immersive production with authentic fan engagement.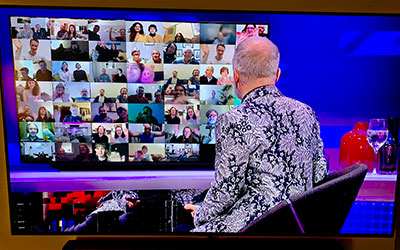 With no need to download an app, the audience simply logs on via a laptop, tablet or phone browser, requiring an internet connection only. The system generates unique URLs that can only be used once. The Moderator Panel, a feature built into the original software, allows the moderator to view in Live Grid and Waiting Room Grid mode, assigning users to different locations and controlling their microphone for a smooth workflow. The VLA system can also be provided as an audio only system, allowing for real-time laughter to be captured for pre-recorded productions.
Brit Row's Josh Lloyd and SurfHire's Simon Hodge are leading the VLA project in the UK: 'As a platform, it's based around top-quality audio and video,' Lloyd comments. 'Many companies are using video conferencing systems for this kind of technology; however, they aren't designed for live event experiences, instead they've been manipulated to fit a need during the Coronavirus crisis. VLA is a product specifically designed by audio and comms specialists for as good a concert or TV show experience the available technology can facilitate while we're still unable to have people in a venue.'
The VLA system has been built from the ground up, the software platform was written by the team at Clair Global in the US, and offers a bespoke and flexible approach in terms of how the group of companies can deliver video and audio to the client.
'The audio and picture quality is much higher than we've been used to hearing and seeing over the last few months,' says Hodge, whose comms company SurfHire was acquired by Britannia Row in 2019.
'We can pull the audio out as an audience mix and take it out into different zones,' furthers Lloyd. 'If an artist wants to pick out a member of the crowd, we can solo their microphone and they can interact with the person calling in. Graham Norton's Red Chair segment is a good example of how that can work – we singled out the audience member to tell their story, and Graham could talk to them just as he did pre-Covid.'
'It was worth waiting for, it's a superior tool,' says Hodge. 'These are still strange times for everybody, and the industry continues to provide learning curves, yet we are now able to offer a service with very low latency (as low as 200ms depending on the end-user's internet connection) and real-time interactivity.'
US productions to have used the VLA system to date include The Ellen Show, The Voice and Metallica's recent live charity stream in the US for their All Within My Hands Foundation. In the UK, The Graham Norton Show, Have I Got News For You and various sitcoms have come onboard.
'The Graham Norton Show was Graham's first time back in the studio after he had been presenting from home,' explains Lloyd. 'The idea was that he'd return to the studio with a socially distanced audience. However, lockdown 2.0 came into action and VLA was needed quickly. This really shows how fast everything is changing and how urgently technology is needed to adapt when creating new entertainment.'
'We are very keen to use this technology with artists in the UK,' Hodge adds. 'Whatever the future holds for live events, there's every chance that it's not going to be the same as it was. You have to adapt to be successful, and we're lucky that we're in a position to share this kind of technological innovation across continents.'
'We don't know exactly what an audience will look like in 2021 or 2022,' concludes Lloyd. 'Could this platform augment touring with a socially distanced audience? Could it be used alongside the audience to generate revenue, turn a profit and pay for production as needed? Will it help people who are still unable to come to a show if they're shielding long term? The answer is yes, if it's needed.'
More: www.britanniarow.com