Boss and Sola Sound have come together to introduce the TB-2W Tone Bender, an authentic sonic recreation of the iconic Tone Bender MkII fuzz pedal used by some of guitar greats from the 1960s through to today.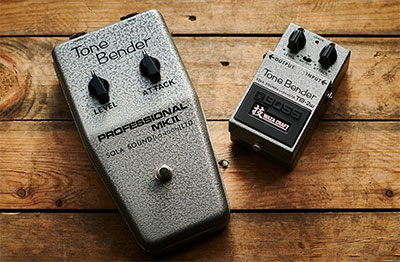 The original Tone Bender was released under Under the Sola Sound brand by Macari's Musical Instruments in London and was, alongside the Electro-Harmonix Big Mufff and the Arbiter Fuzz Face (now under the Dunlop marquee), a defining part of electric guitar history. Using a 'masterpiece' Tone Bender MkII (s/n 500) from Sola Sound's archive as a benchmark reference, Boss engineers have 'fully realised' the pedal's sound and expressive dynamic response through its Waza craftsmanship.
Available as a limited production run, each TB-2W features rare germanium transistors that Boss will have tested for optimum tone, a three-way voltage selector, selectable true/buffered bypass operation, and a 'refined' circuit design to ensure consistent performance from pedal to pedal.
'Working through one challenge after another, we were able to overcome them all with no-compromise through dogged determination and careful attention to the finest details,' the company says. 'While Boss and Sola Sound have totally different histories, both companies have always strived to achieve the very best in tone. The TB-2W embodies our shared passions, bringing you Sola Sound's famous rock voice coupled with Boss' committed craftsmanship and legendary spirit of innovation.'
The Tone Bender cuircuit and sound have lived on through a wide variety of clones and component kits, and provides a rich vein of discussion in stompbox circles.
The Boss TB-2W Tone Bender will be available in Q2 2021.