Following the announcement of Audiosales srl (Italy) as Distributor of the Year at the company's Ibsider event, DirectOut has recognised stagetec systems (Australia) with a Rookie of the Year award and Lawo BVBA (Netherlands) with Prodigy of the Year. Audiosales, one of DirectOut's longest standing distributors, received Distributor of the Year for the first time.
'Our cooperation with Audiosales has constantly developed over the past ten years and we appreciate Audiosales' professional performance in service and support across the pro audio and broadcast segments in Italy,' says DirectOut CEO, Jan Ehrlich. 'It's another success story and this award expresses a well-deserved acknowledgement for their great job.'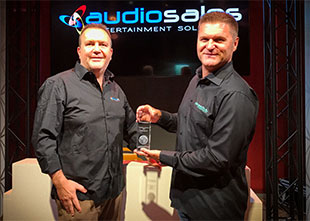 'Receiving this award is of great satisfaction for us, not only because of a great year, but also because it is the tangible proof of what kind of work the entire team has been able to keep up during the years,' says Audiosales Sales Director, Marco Alterini. 'Audiosales is extremely happy about the relationship with DirectOut, not only because the products offer high quality and reliability, but also because the entire pre- and post-sales service provided by the company matches the same high expectations.'
'Since the end of 2018, our collaboration with tm stagetec system is a success story in time-lapse speed,' Ehrlich resumes. 'Building on our good reputation in the Australian broadcast market Treva and Mark took the opportunity and gained clients in further segments of big interest for DirectOut. Day after day we are more and more convinced that we found the perfect partner for Australia and New Zealand.'
'We are very excited and appreciative to receive this award,' says TMS General Manager, Mark Lownds. 'The team at tm stagetec systems has worked closely with those at DirectOut over the last year and we have developed great working relationships. We are all very much looking forward to continuing to develop the cooperative partnership between tm stagetec systems and DirectOut. Our team will also keep working to ensure DirectOut products continue to solve many of our customers' problems.'
'DirectOut is a perfect fit for us at tm stagetec systems and the last year has proved this,' adds Managing Director, Treva Head. 'Both the philosophy of the products and the diverse range they cover has helped us better serve our customers in both broadcast and pro-audio markets. We are very excited to continue to represent DirectOut and further build their reputation in the Australian market. We thank DirectOut for this recognition and look forward to the years to come.'
DirectOut also recognised Lawo BVBA (formerly LDM systems) for its efforts in introducing the Prodigy Series of modular converters and processors to the market.
'Our market has always been fond of the products of DirectOut,' says Sales Director and co-owner Mark Tito. 'Small tools that carried out their specializsd task effortlessly and reliably. And then the Prodigy was introduced and we had a comprehensive tool, composed of all the single tools one would ever want - like a Swiss army knife.'
'The team of Lawo BVBA is extremely skilled and knows our products very well, and this has always been the fundament for our close cooperation,' Ehrlich adds. 'Mark and his colleagues are carrying a personal and close relationship with their clients. Their mindset of continuously musing about easing the clients' daily work by applying DirectOut solutions is a key to their success. The outstanding achievements introducing the Prodigy Series are proof of concept for both Lawo BVA and DirectOut.'
More: www.directout.eu