Alongside being a tourist hotspot for its religious culture and natural scenery, Ge's Fairy Village Resort, in Shangrao, Jiangxi Province China, has completed construction of a new attraction. In order to ensure that the audio infrastructure of the new Lingbao Fairyland lived up to the scale of the attraction itself, EZPro International was appointed to design and install its sound system.
A total of 160 Outline loudspeaker systems are now installed across Lingbao Fairyland, made up of 136 Hi-Z and 24 Lo-Z systems. To drive it, EZPro has used three Powersoft Duecanali 1604 DSP+D, four Duecanali 804 DSP+D, six Mezzo 602AD, two Quattrocanali 1204 DSP+D and five X4 DSP+D, all Dante enabled amplifiers.
'The original brief was to create a stable system with flexible signal connections, which was able to simplify the signal processing procedure a great deal,' says EZPro System Designer, Weisong Wu. 'We took Powersoft amplifiers into consideration straight away, due to their functions and attractive price point – which were both important aspects in fulfilling the customer's needs. The entire system is tuned and controlled by ArmoníaPlus. With the embedded HealthPlus capacity, it is very easy to check the entire audio set-up status, including loudspeaker impedance in case of system malfunction.'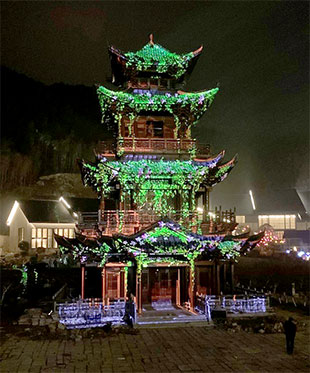 Wu singled out the 'night tour' section of the attraction as an area where the audio system is particularly important. The tour leads visitors through the Chinese folktale of Ge Xuan's success in Taoism, immersing them in a vivid Taoist fairyland embodied by sound, light and physical structures.
This section includes 19 viewing spots spread across the town, one of the most visited of which is an open grassland. Here, two Powersoft Mezzo 602 AD amplifiers were selected to power 36 loudspeakers – 18 loudspeakers each, nine speakers per channel, operating at a constant 100V to deliver 20W to each loudspeaker.
'There are a few reasons behind the choice of Mezzo for that particular area,' Wu says. 'First, Mezzo amplifiers are small in size but that doesn't compromise the quality of the sound. Second, it is quite cost-efficient as the budget of the whole project was an important consideration.'
Wu says that the available Dante version of Mezzo amplifiers also makes the sound system more reliable with a faster transmission speed: 'The end-user has spoken very highly of the system,' he reports. 'They were particularly impressed with Mezzo's strong capacity and stability in such a small factor.'
See also:
Outline's adventure on Russia's Dream Island