Following the recent installation of the first Solid State Logic Origin analogue in-line mixing console in Australia at Damien Gerard Studios facility in New South Wales, Republic Records has placed a 32-channel Origin at its recording facility in Los Angeles. The new desk replaces a vintage desk, and was supplied by Vintage King.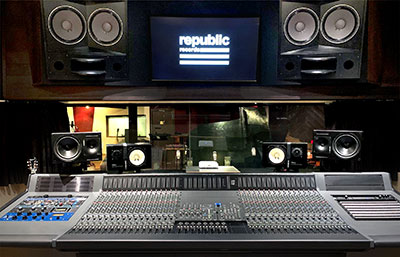 A division of Universal Music Group (UMG), the label opened the studio in 2017. It has been booked solid since opening and has played its part in producing six No1 albums over the past 18 months. The building itself encompasses a tracking space large enough for a medium-sized orchestra, two control rooms and four production suites.
Earlier this year, Rob Christie – Republic Records Studio Director since the facility opened – elected to replace Studio A's aging mixing console with a new SSL Origin. With so many Top 40 artists and their production teams coming through the room, he wanted to eliminate any maintenance issues in the room.
'One thing that we need on a session is reliability,' he says. 'I need to know that everything is going to work, and that it's laid out nicely and easily for access, speed and reliability.'
The in-house technical staff wired and installed the Origin console. 'The SSL is just plug-and-play; it's ready to go,' says Christie. Plus, the desk checked all the boxes for the studio: 'It's got the classic SSL sound, it's very low maintenance and it's at a price that's affordable for smaller or mid-level studios.'
During the installation, the control room front wall was customised to accommodate a soffit-mounted pair of Augspurger main monitors, complemented by a pair of 18-inch subwoofers positioned behind the console. Pairs of ATC SM45A Pro reference monitors and Yamaha NS-10s close-field speakers are additionally available.
The technical staff also added a bay on each side of the Origin – one houses a patchbay and the other contains a selection of outboard processing units, including several outboard preamps, equalisers, compressors and limiters.
'We are very pleased to see Republic Records Studio come online with Origin as one of the first studios to commit to our latest large format inline console offering,' says Phil Wagner, Senior Vice President of SSL. 'Universal Music Group have a number of installations coming online with Origin and we couldn't be happier with UMGs continued commitment to Solid State Logic.'
See also:
Damien Gerard installs first SSL Origin in Australia
More: www.solidstatelogic.com