Producer and artist manager Nick Cage has acquired the UK's first Neve 8424 console , installing it his South London studio, The Belly of the Beast.
Based in Forest Hill, Belly of the Beast is owned by producer and manager of Dizzee Rascal, Nick Cage. The studio was set up as a private facility but in recent years – certainly since producer and mix engineer James Rand and musician/engineer Raf Rundell began working there – it has become an end-to-end facility with access to writers, session musicians and engineers able to handle all aspects of a projects, from recording to mixing and mastering.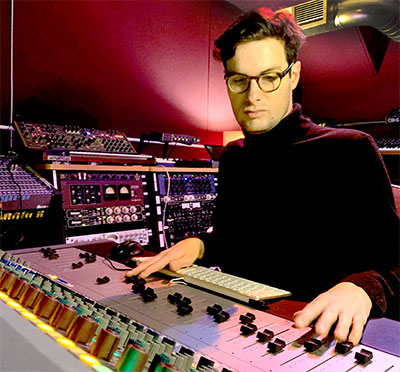 The studio pre-ordered the Neve 8424 console prior to its release in June, following an in-depth demo that of its full range of features. Designed to offer a mixing platform with connectivity between the worlds of analogue and digital, the small-format console draws on the large-format Neve 80-series range for its heritage and is well suited to studios like Belly of the Beast where esoteric and vintage outboard equipment play a significant role in the facility's workflow.
'For studios like ours where you have a large and varied collection of preamps, EQs and interesting bits of outboard gear, this desk is ideal because it provides a very logical system to bring all of those elements together,' says studio manager Rand. 'We now have an architecture where we can route our preamps directly into the console and send the sound wherever we need it. This makes life a lot more exciting because what used to be a faff to set up is now much simpler and easier.'
The decision to replace Cage's old TL Audio VTC console with the Neve 8424 is part of a longer-term plan to attract more commercial projects: 'We already do a lot of mixing and that part of our business became even more important during lockdown, so having a console with reliable recall was an imperative,' Rand explains. 'The arrival of the new desk gave us the opportunity to reorganise the studio and all our racks so that we could create an environment that really supports artists and allows them to get some wicked work done.'
In terms of Recall, the Neve 8424 fitted the brief because it's onboard system saves, loads and recalls all settings, faders and pot positions on a session-by-session basis.
'When I saw that Neve had launched this desk I was intrigued because it was such an interesting concept,' Rand adds. 'In my view, equipment is either useful or it's not. I need things to be simple and fast so that I can basically just get on with it. As we were already massive Neve fans [Cage owns vintage Neve 1084 and 1066 preamps that are used to record vocals], it pretty much sold itself. It was right for our studio and we're really happy with it.'
Cage is equally happy with the choice: 'The combination of Recall and summing is exactly what we wanted – and of course it has that fabulous, warm Neve sound,' he says. 'For me, it was love at first sight because I could see that it was a great solution, at a fantastic price.'
Belly of the Beast's Neve 8424 console was installed over a period of two weeks. 'It took a while because we have a lot of outboard equipment that we needed to integrate, but if you are only planning to use the two inbuilt preamps, which are absolutely fantastic, then it is incredibly easy to set up,' Rand says. 'It also makes sense to build your own presets in advance, which is easy enough to do once you have dived down into the desk and worked it out. I've got two – a mix one, where all the inputs are coming from the DAW and a recording one where Channels 1_16 take information from the preamps and Channels 17–24 come in from the computer.'
Rand adds that he also appreciates Neve's proprietary Stereo Width control, which uses Mid/Side processing to enhance the stereo imaging. 'I don't know the science of it – only that it sounds incredible,' he says. 'It makes everything sound more 3D and is the most amazing feature on the whole console.'
Since installing the Neve 8424, Rand has used the desk on a number of projects including mixes for Lapsely, Sega Bodega, Mykki Blanco and Beatrice Dillon.
'My overall feeling about this console is that it is quick and it satisfies more esoteric needs. I don't think it is a silver bullet console. It can't do absolutely everything, but it scratches quite a specific set of itches for everyone who works in here. It is ideal for a more comprehensive project studio – that is where it sits really well – and I guess that is where it would be most at home. We've already got people who want to come to the studio just to look at it.'
See also:
AMS Neve 8424 console
More: www.ams-neve.com