With a 24 channel Audient ASP8024-HE mixing console at the heart of Studio A, business is going well at the recently opened House of Hits recording studio in Miami – so well, that plans have already been drawn up to expand into available space next door. Alongside the studios and live room, the facility offers online services inclusing mixing, mastering and beat mixing. House Of Hits will also make you custom beats and cut you a radio edit. There is also a house blog, offering mixing tips...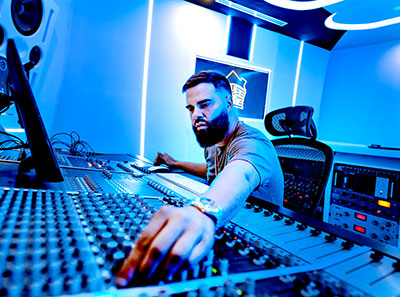 'We've been open three months with 15-hour bookings in both rooms each day,' says owner and multi-platinum engineer, Vinny DeLeon. 'We're going to double our square footage to 5,000. We'll have three more studios, a lounge, a basketball court – you name it.'
DeLeon's accomplishments as a 47-times platinum mixing engineer with seven Grammy nominations and an RIAA Diamond award have helped attract major label clients. Offset (of the Migos), Lil Pump, Daddy Yankee and French Montana have already passed through the doors at House Of Hits, as well as Latin artists Nicky Jam, Rosalía, Karol G and Anuel.
Describing the studio as 'the world's first recording experience', DeLeon wants clients to choose House Of Hits for holistic reasons: 'We offer a lot more than the typical recording studio. We're a one-stop shop for all musical and creative needs in Miami: production, recording, mixing, mastering, writing etc. We even have an art gallery in the communal area.'
He undertook extensive research prior to opening the studio – in particular, when specifying the mixing desk. 'I went from a digital board to an analogue console, so I wanted to make sure the marriage was one that would last for a long time. I love the Audient; I love the look of it, and it sounds even better.'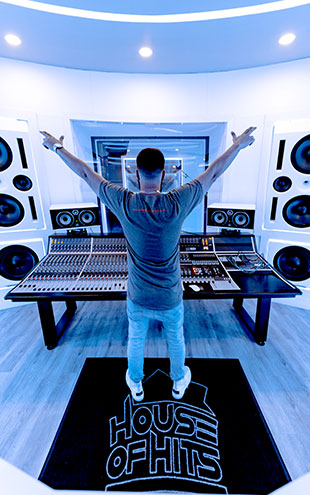 His ASP8024-HE console has Dual Layer Control (DLC), which provides a range of DAW control features. DeLeon is used to working in-the-box and describes himself as 'a little 'new school', yet was surprised by how quickly he has been able to adapt. 'It's been a really easy transition, and the integration with Pro Tools is awesome. The board is very simple; everything is inline and very straightforward.'
House Of Hits currently has a staff of eight engineers and manages two producers, but with the new studio expected to open within the next four months, staff numbers are set to increase. Alongside growth in the studio company, DeLeon's online alter ego: Mr Mix & Master is also enjoying an upswing in business.
DeLeon's competitive pricing means he can cater for local bookings as well as those from further afield, ensuring the studio is always full. 'I like to be in the middle market and give back,' he explains, setting himself apart from the high-cost producers who are out of reach for independent artists. 'By setting up a label and signing talent, we want to create the superstars that wouldn't normally have the resources that the major labels do – at an affordable price.'
There hints at the plans he has for his new studio next door: 'We're looking to create one of the coolest looking studios – like the fuselage of an aeroplane or even a spaceship. It's really a 2030 design. I'm excited to have Audient be a part of this.'