Estudio A Sonido recently welcomed prominent Spanish pop group Taburete to with in-house producer Eduardo Figueroa and mix engineer Alberto Sanchez on new music as well as shooting music videos in the live room. Key to the sessions in the Torrelodones studio was a new 32-channel SSL Origin in-line analogue mixing console.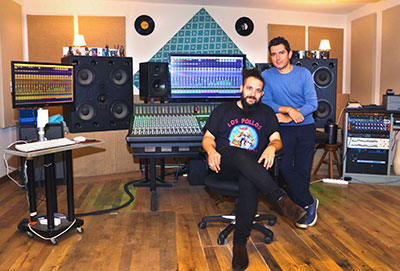 'There was a SSL 4000 E in the first studio I worked in, so after many years working with it I fell in love with the sound, and when I saw this new console, I knew it was the one,' Figueroa recounts. 'The most important aspect, for me, is that it is a vintage mixing console adapted to the workflows of the present day.'
Already familiar with the physical features of SSL desks, Figueroa found the installation of the Origin and its integration into his studio infrastructure to be a breeze.
'I am used to the external power supplies and thousands of wires, so the installation was very easy to understand,' he says. 'I love the possibility of adapting the interface and other rack hardware on the console using the modular centre section.
'The greatest advantage that the system's flexibility has brought to our workflow is the bus routing. It is easy and very fast, so mixing and monitoring for musicians is very quick. Essentially, the most time-consuming aspect of the job is now a lot faster.'
The studio's workflow in itself is quite specific – recordings are made live with all instruments recorded simultaneously with the musicians in one room. To this end, the SSL Origin console's hybrid flexibility and bus routing has significantly increased the speed at which different instruments can be sent to recording musicians, while its comprehensive solo controls have provided a choice of Solo-In-Front with mix balance, Solo-In-Place for large, small and group faders and PFL options.
'We think this keeps the music alive and more real, and with all the instrumentals recorded and edited, we go to the next step which is vocal recording,' says Figueroa. 'The console makes this work very fast and intuitive, especially for the musician's monitoring.'
With the Origin's monitoring section, Figueroa and the engineering team are able to select their monitor source from the main mix, three external stereo sources or the front panel stereo 3.5mm jack input, with a Sum switch allowing selected sources to be listened to simultaneously. The console's summing features have also proved particularly invaluable in facilitating the studio's mixes.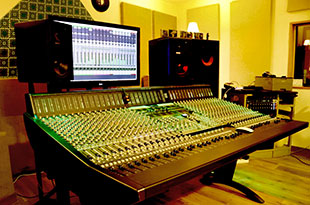 'Since we mix in the console, it's important to us for it to have its own sound,' Sanchez explains. 'It has a different, fuller, presentation of dynamics and is deeper and richer in harmonics. With our mixes now – compared to previous mixes – everything is more clear and complete.'
The crew at Estudio A Sonido have found the Origin's functionality to be extremely useful during their day-to-day work, including its Bus Compressor, 0dB button fader bypass for stem printing, in front balance, sleep, solo and route clear features that further the speed of the workflow.
Having access to the E-Series four-band parametric EQ on each of the console's 32-channels – with variable cut/boost per band, HF and LF bell/shelf switches, independent sweepable HPF on every channel and '242-style' low end – has also given the team at Estudio an edge when it comes to mixing.
Meanwhile, Figueroa is also a big fan of PureDrive, Origin's new discrete transistor mic-pre based around modern FET components, and says the result is an ultra-clean, ultra-low noise solution that offers stunning resolution when in Pure Mode.
'SSL is a very well-known brand and lots of artists look for it in studios,' Figueroa concludes. 'With our new Origin console, we now have the ability to do whatever we want with the sounds we're working with. It is excellent in every aspect and we couldn't be happier.'
Located in just outside Madrid, the desk was supplied to the studio by SSL's Spanish partner, Zentralmedia.
See also:
Damien Gerard installs first SSL Origin in Australia
More: www.solidstatelogic.com