Two quite diverse installations of Martin Audio systems have recently been completed by Albanian distributor, Prosound – a new urban bar in Tirana, the Albanian capital, and a seasonal holiday beach resort in Dhërmi, in the southwest of the country.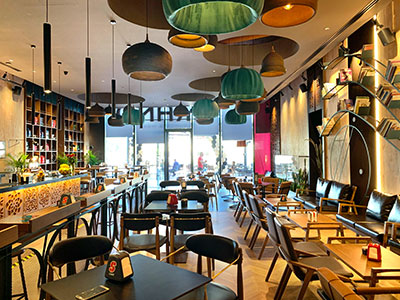 The Grand Bar has been constructed on the premises of the recently reconstructed Air Albania Stadium. Prosound involvement came following previous work with the same owners on another bar of the same name. 'The owners were looking for a sound system that could function both as a background and foreground system, with even distribution,' says Prosound Technical Director, Endrit Veleshnja.
With a 70-capacity inside room as well as an outdoor terrace, the bar trades through the day until 11pm, and the clients were happy to adopt the Adorn series, based on Martin Audio's reputation and its ability to function at both low and high levels (the latter when a DJ performs on special occasions). Prosound recommended eight Adorn A55, combined with a pair of SX110 subwoofers for the room, with a further three Adorn A55 on the terrace.
This, ultra-compact passive two-way system has a wide 110° x 80° dispersion pattern. It can produce 113dB peak output at 1m, has a frequency response and a bass reproduction that extends down to 65Hz.
A temporary BlacklineX set-up at the Dhërmi resort hotel – which comprises a restaurant and adjacent covered beach bar zone – served out the summer season, and will return for the 2021 season.
Prosound already had a relationship with the client, having recently installed a Martin Audio system in Lost & Tema in Tirana, also under the ownership of Filip Fermanis. The solution, involved the house technician at the latter relocating the system from Lost to the beach resort since it does not operate during the summer season in Tirana. Prosound hung the speakers from the temporary wooden ceiling structure using M8 inserts. Four Blackline X15 and four X210 subwoofers were installed in the beach bar and four X8 in the restaurant area.
'We find that Adorn is one of our best sellers in its class,' says Veleshnja. 'The enclosures are compact, it delivers quality sound and sufficient SPL to meet customer requirements in a wide range of installations. It was the obvious solution for the Grand Bar. As for Dhërmi, it made perfect sense to rerig the BlacklineX system from Lost while that venue was closed. The relocation provided the owner with a potent system to entertain the many tourists who visit this popular resort.'
More: www.martin-audio.com