The largest non-denominational Pentecostal church serving the Hispanic community in central Florida, the Iglesia De Dios Pentecostal MI church now conducts its large, upbeat, music-rich services from a newly finished and equipped sanctuary.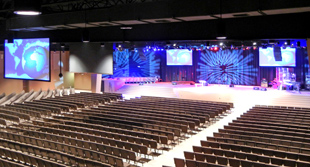 With seating for 2,600 and weekly services running near full capacity, the former gymnasium has been refitted and given an extensive technical installation that includes lighting, video, acoustic treatment throughout, and an sound system using Aero Series 2 and Avant from DAS Audio.
'This project was an extensive facility upgrade of a building the church recently purchased,' says Mick Hall, Account Manager for GC Pro (Guitar Center Professional Division), which handled the installation. 'Management's goal was to create an immersive worship experience and, as such, they were looking to acquire a comprehensive setup that integrated audio, lighting, and video for their new sanctuary. For sound, there were numerous conditions that led to the selection of the DAS equipment.'
Hall oversees a large proportion of the company's house of worship projects, and was involved in both the design and installation at Iglesia De Dios Pentecostal. 'High speech intelligibility and solid music reproduction were a huge consideration in the selection of the loudspeakers,' he says. 'There's a huge praise band and vocal ensemble that augment the church choir, so music is a key element in the services. After auditioning a number of loudspeaker systems, the decision to deploy DAS Audio was made. Simply put, DAS offered superior sound quality, was entirely self-powered (which eliminated the need to house racks of power amplifiers separately and also simplified system cabling), and offered the long throw characteristics essential to properly fill the space. Top this off with the system being a great value and it essentially sold itself.'
The sanctuary's seating area measures roughly 180 feet in length and 130 feet wide, and has a ceiling height of 28 feet. To provide consistent coverage throughout the space, 14 Aero 12A powered, two-way, mid-high line array modules – flown seven elements per side over the stage/altar area – serve as the house mains. These are augumented by several Avant 12A powered, 2-way enclosures. Avant 12As positioned at the extreme left and right sides of the front area serve as downfills to provide coverage for the sides of the space. Another two Avant 12A loudspeakers give centre down fill for the area immediately in front of the stage. Additionally, a single Avant 12A is mounted to the rear of each flown Aero 12A loudspeaker cluster and is aimed down at the stage area. These serve as monitors for those on stage. Finally, two additional Avant 12A enclosures provide delay fill to the rear balcony.
Low-frequency support is provided by six DAS Audio LX-218A powered subwoofers. There are three enclosures per side – housed in recessed cubicles beneath the stage front area. For stage monitoring, eight DAS SML-12A powered, multipurpose monitors are available. These can be freely positioned depending upon the nature of the activity on stage.
With the new audiovisual system in place and fully operational, Hall reports that everything is working well. 'Our client is ecstatic,' he says. 'We've received numerous compliments about the sound system's performance. With the incredibly capable and responsive support from DAS Audio of America's Miami-based staff, we assembled a sound system that exceeded the customer's expectations. In the months following the installation, our client has given GC Pro numerous referrals. When a project leads to repeat business, that's as good as it gets.'
More: www.todoeltiempo.org
More: www.gcpro.com
More: www.dasaudio.com