Based in London, with additional offices in Manchester, Milan and New York City, the Depop peer-to-peer social shopping mobile app has equipped a front-of-house area for holding team meetings of up to 150 employees and showcasing new products from its portfolio. Needing an audiovisual system, the company approached Flipside Soundsystem for a solution in-keeping with the brand's niche aesthetic, and could disappear into the background when not in use.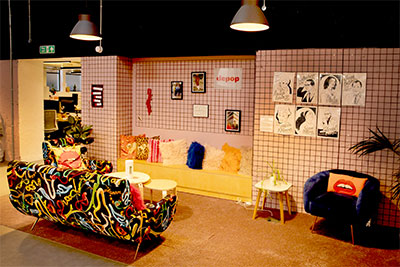 The loudspeakers chosen for the job included two Yamaha VXL1W16 columns, one VXL1B8 and a VXS10SW in white and black to match the walls they are mounted on. Amplification and processing called on a Yamaha MTX5D and an XMV4280 located in a hidden rack. Audio-Technica was the preferred wireless mic system, with two ATW-3211/892x and four ATW-3212/C510s allowing presenters freedom to roam without cables.
For A/V, two white NEC P525UL 5,000 lumen native WUXGA projectors are flown from the ceiling and fire onto a pair of motorised Sahara Pro Electric Hall Screens. Visual processing is handled by a Wyrestorm MX 0404 HDBT 4K, while conveniently located Single Gang 2XD and 4xD wall boxes complete the project.
'There was quite a lot to do,' admits Flipside MD, James Cooper. 'But it ended up being a fun problem to have – to design an A/V installation that allowed the team to use each aspect dynamically, but present them with a simple user interface. When you solve that problem, you end up with a really high-end, high-quality solution.'
Depop initially faced the challenge of having its IT team and technical crew dedicating too much time to setting up each system – often requiring someone to sit at the back of each event with an analogue mixer during department Zoom calls. Happily, Flipside had a simpler process for the technical team: 'They were really happy because they don't have to do anything,' Cooper explains. 'With this audiovisual installation, you don't have to change any batteries on microphones, they all have charging stations, so you can simply choose what you want, and the wall panel turn it up and it sounds great every time.
'There was a really nice moment when we dropped everything down during the testing and when you stand back, you can barely notice that the infrastructure is there until you turn these projectors on and then the screen comes down and we were all just standing there looking at it,' he continues. 'It was even more impressive considering we were hanging screens that big on tension steel cables off of what turned out to be a false ceiling.'
'James was a great collaborator,' adds Hayden Duffy, Depop IT Support Engineering Lead. 'He just knew the exact solutions we needed and how we could use each system as effectively as possible. On one of the installation days, the team and I popped in and we got the full explanation of how everything worked which was great.'
'The philosophy of start-up companies and the requirements for A/V, especially online and tech-based start-ups, ends up being a cool hybrid between traditional systems with a dynamic element and I think the end result for this project was exactly that – both a very integrated, simple-to-use system that is able to achieve everything that a large, complex public address system can do,' Cooper says.