Near the southeast bank of the Garda Lake, the Gardaland Theme Park is one of the oldest and best loved theme parks in Italy. Recently, increasing failures and a general lack of flexibility in its sound distribution system led Gardaland's A/V Technicians to seek a solution.
Opened in 1975, Gardaland's theme is inspired by the world of history, geography, space, and fantasy with rides to match. With eight roller coasters (five rated 'extreme' by the Roller Coaster Data Base), three water rides, dozens of other rides and a variety of attractions and shows, the park attracts more than 3m visitors each year.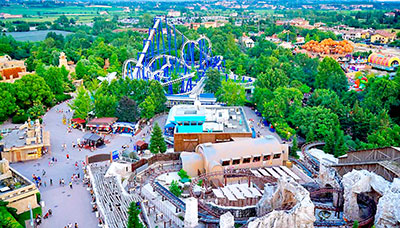 Led by Eurolab MD Alberto Colombo and Sisme sound engineer,Simone Santarelli, Gardaland was offered audio distribution, processing, monitoring, and real-time system control throughout the entire 50-acre park. Their years of audio and control system experience supported by products from Symetrix gave Gardaland confidence it would have a world-class installation.
At its core, fibre-optic lines link seven technical rooms in various parts of the park and are used to carry 16 tracks of synchronised audio. A Symetrix Radius NX 12x8 processor with an analogue input expansion card brings those 16 channels of audio into the system, provides processing as needed, and transmits it over a Dante network.
Symetrix xOut interfaces (seven xOut 4 and one xOut 12) in the park's technical rooms convert the Dante audio back to analogue audio for 40 channels of zone amplification. Designed exclusively for use with Dante-enabled Symetrix DSP units, the xOut 4 and xOut 12 are configured using Symetrix Composer software.
The Composer Software allows Gardaland's technicians to quickly configure the entire audio network from anywhere in the park and SymVue control interfaces provide immediate control over all input and output processing, network routing, and paging. The custom SymVue interface provides simple and intuitive system control, as well as the ability to modify or expand the interface as needed.
Symetrix's Web-Based Event Scheduler provides automatic activation of each zone's audio when the park opens in the morning, and automatically deactivates each zone when it closes. Staff can access the scheduler with a web browser from a phone, tablet, or computer to make temporary or permanent schedule adjustments as needed.
Creating a large, flexible system with simple management and monitoring, spread over 50 acres of rides, shopping, dining and entertainment, presented a challenge. Betwteen them, Eurolab and Sisme delivered a park-wide solution that is reliable, simple to manage both centrally and remotely, and easy to expand as Gardaland's needs evolve.
'The system has allowed us to obtain a truly optimal result, thanks to the great reliability of the Symetrix products and the simplicity of configuration and management through the Composer software,' Santarelli confirms. 'Symetrix products and technology made it possible to create a scalable system, suitable for any future audio expansions.
'Our favourite thing about Symetrix is the excellent scalability and flexibility in large systems that allows us to manage complex installations very easily,' he adds. 'We are very happy with the result and with the trust that our customer has placed in the Symetrix brand, identifying these products as the perfect solution for the renovation of the Gardaland Park.'