Located within the Hope Church campus in Memphis, The Grove Recording Studio recently called Carl Tatz Design to refurbish the studio's vintage Dynaudio M4-Plus main monitor amplification and install the company's own Carl Tatz Edition Dual 15-800 Workstation as part of a Phase One control room upgrade.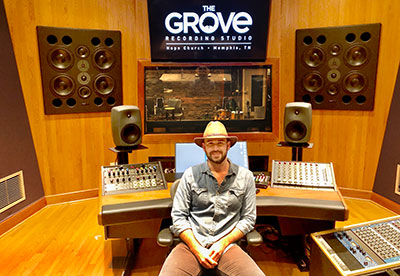 Amelioration for the tri-amped monitor system was achieved by replacing the dated amplification with the new Ashly CA Series High Efficiency Amplifiers and implementing PhantomFocus processing with its reference frequency response curve. The results are noted by house engineer/producer and Studio Manager, John New Dollahite.
'I have worked in The Grove Recording Studio for 12 years, and I have never heard our room sound as good as it does now. Clients comment that they have not heard these monitors ever sound like this – especially with so much punch in the low-end. With the addition of the Carl Tatz Edition Argosy Workstation, our room looks and feels as great as it sounds. I love knowing that I can trust what I'm hearing in the stereo field and that mixes travel perfectly outside of the control room – beautiful imagery.'
Phase Two of the project, coming in 2021, will encompass a full Dual PhantomFocus Monitor System that will include Carl Tatz Design's PFM HD-1000 Master Reference Monitor close-fields that will tie in with the main monitors bringing the response of both main monitors and close-fields down to 20Hz.
More: www.carltatzdesign.com