The Moog Foundation has announced a virtual tour of its Moogseum, led by Executive Director Michelle Moog-Koussa and featuring the Moog modular synthesiser prototype and Herb Deutsch – who collaborated with Bob Moog on developing the pioneering synth. The tour, which celebrates the seminal development that led to a revolution in music, will take place on 13 December 2020 at 2pm Eastern Time.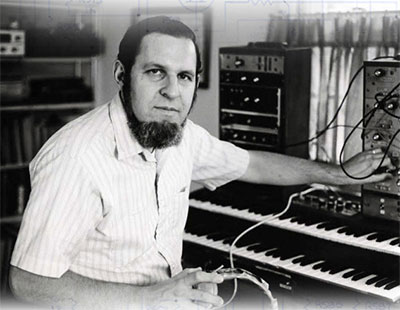 In 1963, Deutsch, a young professor of music at Hofstra University as well as an experimental jazz musician, approached Bob Moog at a music educators' conference. That sparked a year-long discussion and collaboration with Deutsch providing guidance from a musician's standpoint and Moog creating new technology based on those specifications. Modules from the prototype were first shown at an Audio Engineering Conference in 1964, and the unit then sent to Deutsch in 1965. Moog's company, RA Moog Co, began creating larger modular systems over the next four years, and those systems drove a revolution in the world of music.
Deutsch used the prototype synthesiser to compose for many years, then donated the instrument to The Henry Ford museum in 1982. It is on loan and being exhibited at the Moogseum through 31 December 2020, making this tour one of the last chances to see it in this unique facility.
The tour will explore Bob Moog's history leading up to his meeting with Deutsch, and will draw from the vast collection in the Bob Moog Foundation Archives. Deutsch will then join the tour from his home in Long Island, and share his memories and insights into working with Moog during this crucial moment in music history.
'It is our great honour to feature Bob's collaborator and friend, Herb Deutsch, and the Moog prototype synthesiser, for which he was a catalyst,' says Moog-Koussa, Executive Director of the Bob Moog Foundation. 'Herb represents a pivotal juncture in the world of music, during which the sonic landscape was on the verge of expanding in ways that were previously impossible. He was there, guiding Bob, in the years-long development of the revolutionary Moog synthesiser, making him an all-important figure in the world of electronic music.'
Tickets will be sold through Eventbrite and are available on a pay-what-you-can basis. The tour will be shared through a private YouTube link. All proceeds from ticket sales go to benefit the Moogseum, which was closed for five months due to the pandemic.
Tickets: https://bit.ly/MoogseumPrototypeTour