A new Lawo mc²56 audio production console has been installed at FOH by Cornerstone Chapel in Leesburg, Virginia, greatly expanding the church's mixing capacity and completing its transition to IP networking.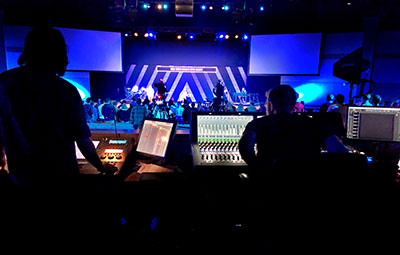 The 32-fader mc²56 is now being used for FOH in Cornerstone's sanctuary for mid-week and Sunday services, as well as for young adult services and other larger church gatherings.
Together with his production team, Cornerstone Audio Director Joey Burdette decided that investing in an IP audio system was a prudent investment in future technology. 'This Lawo solution provides Cornerstone with features that will cover our FOH needs for the foreseeable future, as well as providing expandability for future projects. Because the A__UHD Core can be a pooled resource for up to four consoles, we can easily expand our capabilities just by adding additional surfaces and stageboxes around the campus. Connecting everything with an IP network makes growing the system very easy.'
Based on Ravenna/AES67 IP technology, the new console handles both live performance and broadcast dutues, providing a wide range of new options to help Cornerstone prepare for the future. The installation includes a Lawo A__UHD Core providing 512 DSP channels, two Compact I/O stageboxes, a Nova73 router capable of routing 8092x8092 mono channels, and Dante integration to feed the facility's Yamaha CL5 monitor console and other Dante equipment. The mc256 also includes a Waves Super Rack integration and smart GPIO settings to change the DSP presets of the BSS audio processor.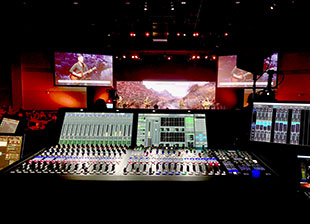 Burdette previously worked at McLean Bible Church at Tysons Campus in Washington, DC, which upgraded in 2018 to an mc²56 at FOH and mc²36 for monitors, so he was already familiar with the performance and features of Lawo consoles. After discussions between Cornerstone and Lawo in February 2020, the order for the new Lawo audio infrastructure was placed in late July, and the project completed in October 2020.
'The relationship we have with Lawo is unlike any other,' he says. 'Lawo goes above and beyond to discuss features and solutions that are tailored to exactly what the customer needs. We really value the integrity of the company.'
For Burdette, flexibility is important, especially considering how often the console is used and how many different operators, each with their own workflows, work on the mc²56. 'The flexibility, workflow, reliability, and expandability of our mc²56 are things no other console offers. And the audio quality is beyond anything else on the market. Our operators love how user-friendly it is and how fast it is to work on; the console adapts to their workflows instead of the other way around.'
Cornerstone already has plans for expanding its new Lawo IP system. 'We're already looking to add more Lawo audio consoles to our facilities, and we're looking at Lawo video infrastructure products too,' Burdette says. 'With Lawo, we're prepared to handle whatever the future brings us.'
More: www.lawo.com