For Middle Tennessee State University (MTSU) professor Bill Crabtree, social distancing restrictions brought about by the Covid-19 pandemic meant creating a multi-camera, high-definition audio classroom within four in four of the six Carl Tatz PhantomFocus-equipped control rooms on the MTSU campus for remote teaching of the university's the Audio Production programme.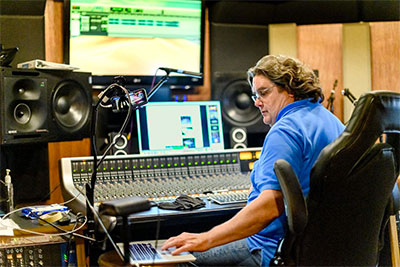 'Most of what I teach is hands-on,' Crabtree explains. 'Our students have to learn how all the equipment in the room works, how to collaborate with others in the control room, and how to work with musicians during a recording session. We knew right away when Covid hit that we'd need to make a virtual TV studio in the audio control room. We had to really scramble in the spring to figure it out quickly and muddle through – which we did.
His solution – which uses relies a Zoom-friendly switcher to manage video feeds from three iPhone SEs mounted around the studio to support his lessons – proved effective in the spring, and had been improved furhter by the start of the autumn 2020 semester. All students participate remotely for class demonstrations, and then work in small groups with graduate assistants for hands-on practice.
'We chose the iPhone over other, more expensive, options because they're very tolerant in low-light conditions and the onboard camera is great,' Crabtree says. 'The video switcher – a Black Magic ATEM Mini Pro – is a new product. When we first started looking, there wasn't a video switcher on the market that would interface well with Zoom, but the ATEM Mini Pro came out just in time. We run the system through a Mac Pro over USB. Zoom recognizes the video feed from the switcher as a webcam.'
Because discussions about audio quality are integral to the lessons, Crabtree also had to find a way to incorporate higher-quality audio than Zoom natively provides.
'Zoom typically operates with low-fidelity audio to help with internet speed. But that's not acceptable when teaching about audio recording and mixing,' he says. 'Thanks to my colleague Michael Hansen, we found ListenTo, a product that enables high-resolution audio streaming. This makes it possible for us to stream the high-resolution studio audio separately from the low-resolution Zoom audio. We also are using ListenTo in our critical-listening classes.'
The set-up works well from both pragmatic and technological perspectives. in providing a high-quality learning experience for students – a longstanding hallmark of MTSU's Department of Recording Industry programme. 'The students did as well as any typical class on the midterm exam and hands-on proficiency,' Crabtree says of his summer class. 'And we've had almost perfect attendance, which is great.'
Zoom, ListenTo, and the multi-camera system also helped keep an integral part of the MFA in Recording Arts & Technologies programme intact. In 2015, MTSU began working with professional studio musicians to record songs written by MTSU Commercial Songwriting majors. MFA students run the sessions from the control room, and each of the songwriters gets high-quality tracks as part of their portfolio for when they enter the professional world. This fall, the musicians stayed socially distant from each other in the studio, separated from the socially distanced student engineers behind the glass in the control room. The songwriters were able to interact with both groups via Zoom while also hearing their songs being recorded in real-time.
'It was really neat,' Crabtree reflects. 'Each of our students had the experience of working with professionals in the field, which is the point of these projects. There is just no substitute for that type of experience.'